A fantastic end to the year!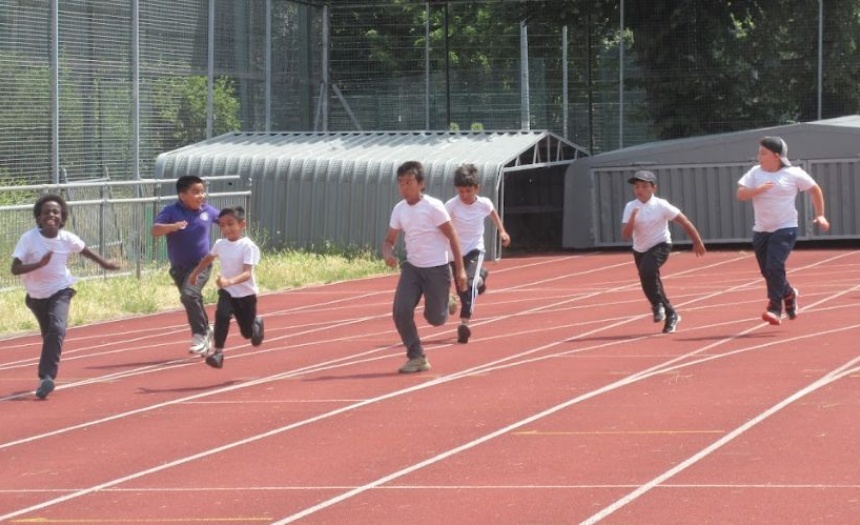 Sporty, creative, collaborative and engaged!! We have lots to celebrate this July!
Forest Class
The children of Forest Class had their own sports day, where they took part in a range of challenging activities. Nothing can stop them from being active and engaged! All the Forest team are proud of the children in Forest class and continue to set ambitious and engaging targets for the children. Go Forest!!
Year 6
THAMES Orchestra Concert- Shoreditch Town Hall
On the 20th June, three of our amazing Year 6 children performed their instruments in a big concert at Shoreditch Town Hall. Alex De Dios Martinez (cello), Iram Hussain (flute) and Radia Reza (flute), who have been learning and practicing their instruments since Year 3, are now fantastic players! They were joined by others who play trumpets, violins, guitars and other instruments.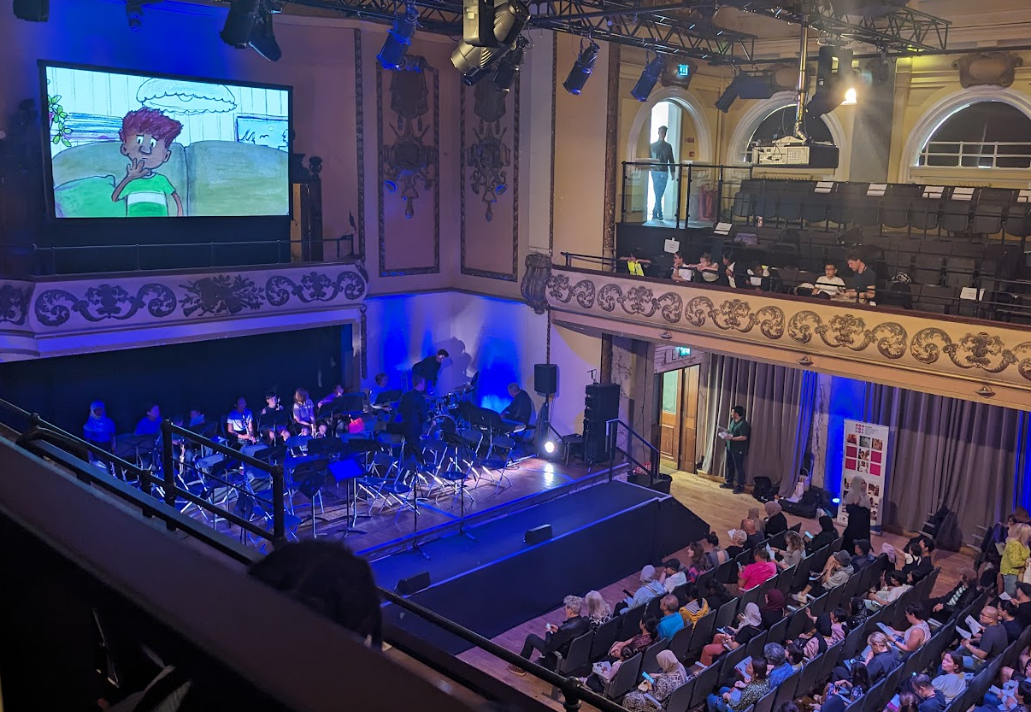 The concert was an amazing opportunity to play alongside lots of other schools with an audience of roughly 200 people. The children did fantastically well and some of the parents came to see too. We are so proud of them representing Stepney Park so well. We had a long wait for the start of the concert after rehearsal times and all of the children did amazingly well!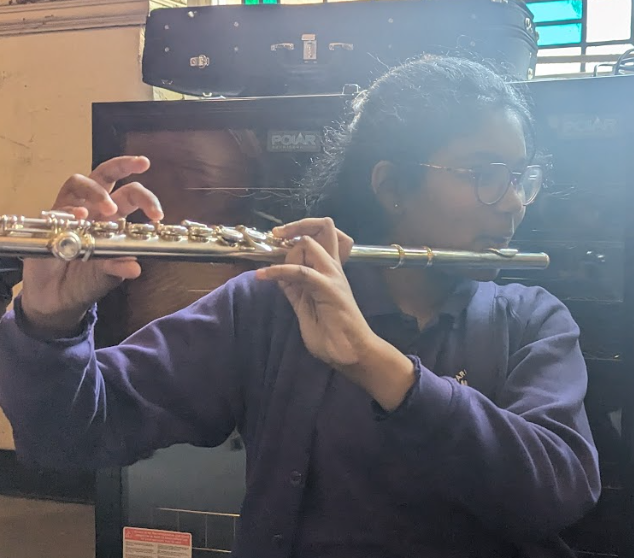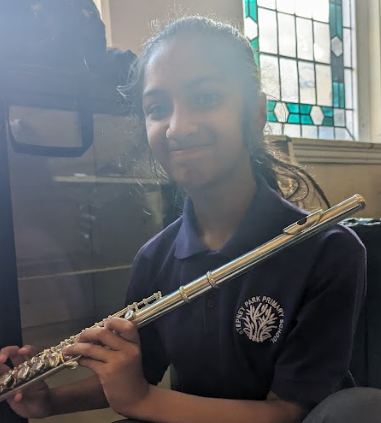 In Year 6 we have been busy rehearsing for our performance of Oliver Twist and our end of Year 6 Graduation. We have been ambitious with acting, using loud voices and singing. Also, we are trying new things as we prepare to say goodbye to our classmates and teachers. We are nearly ready for Secondary School! Many parents and carers will be joining to see us perform; we have practised a lot and look forward to a special performance.
Year 2
In year 2 we've been curious to learn about the history of Whitechapel and how our area has changed since the Victorian Age. We've discovered how the Blitz meant our local area changed a lot after the Second World War and also compared photographs of Whitechapel High Street 100 years ago to how it looks today.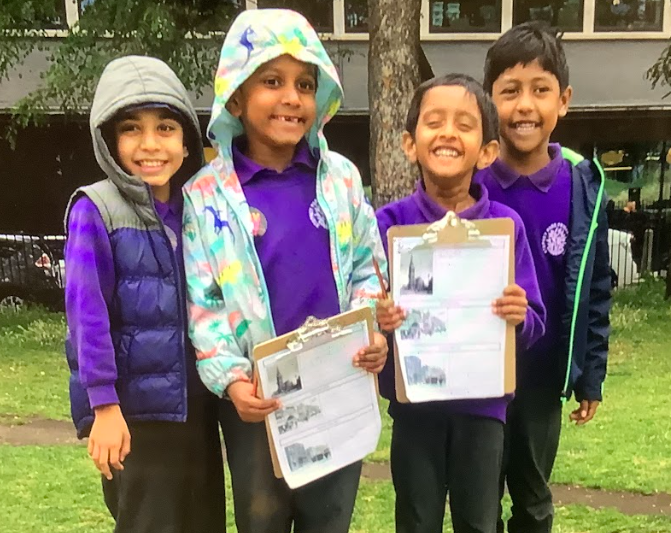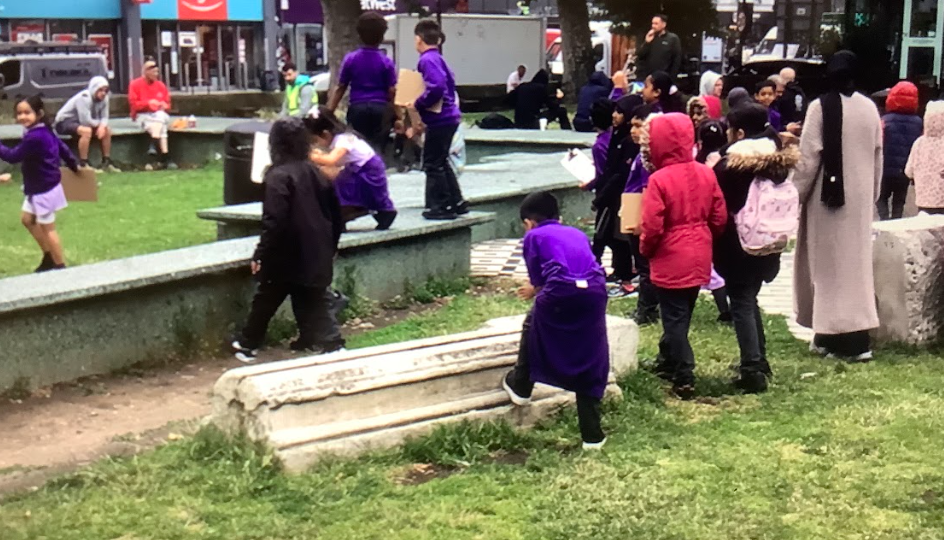 When we went on a local area walk we were amazed to find some buildings were still here and we even discovered some church ruins in Altab Ali Park!
We've also been trying new things and collaborating during the Big Draw this week! Year 2 and Year 4 children worked together to create different collaborative pieces of abstract artwork using fabric paints. Very creative, we think you'll agree! Thank you to Year 4 for being brilliant role models!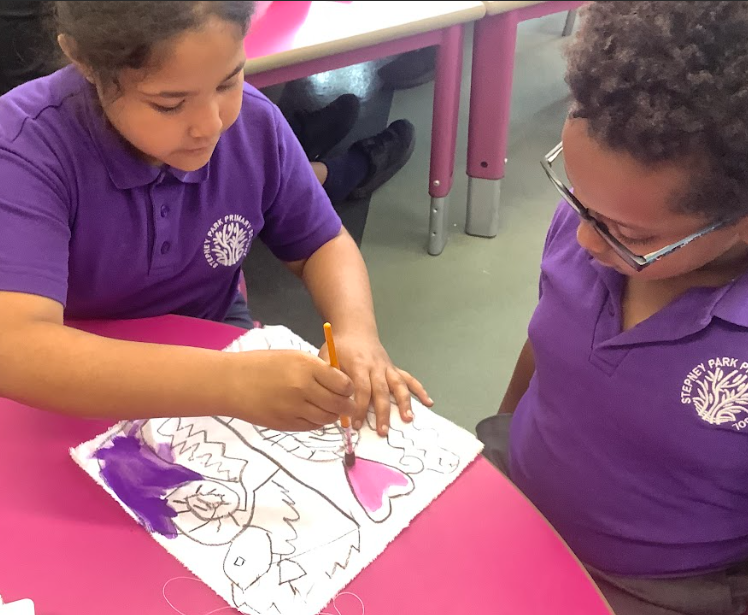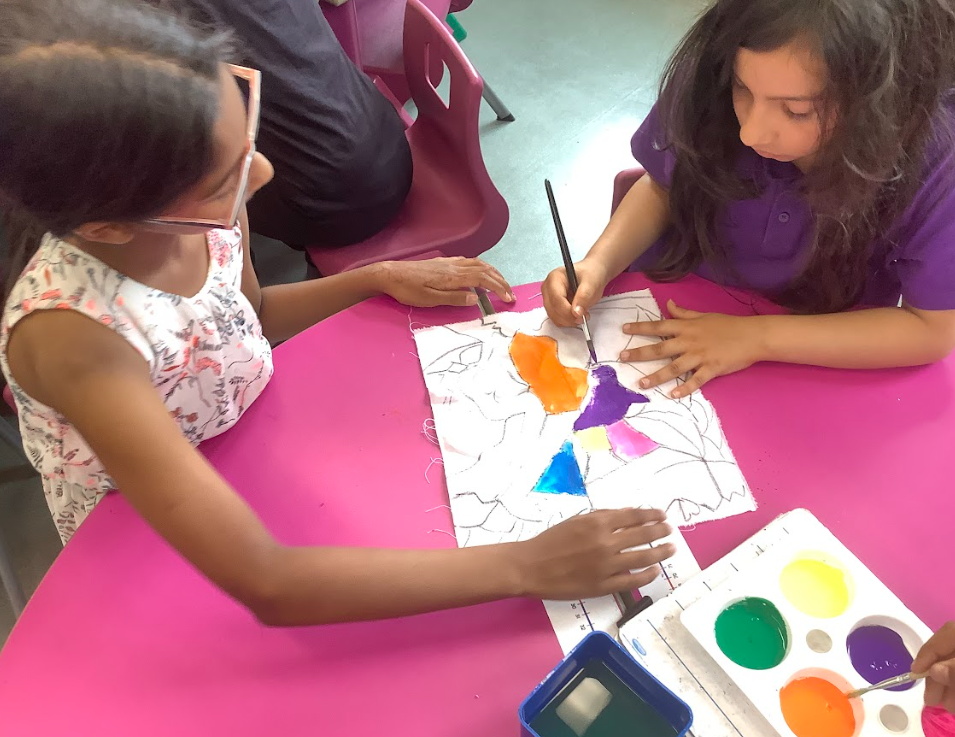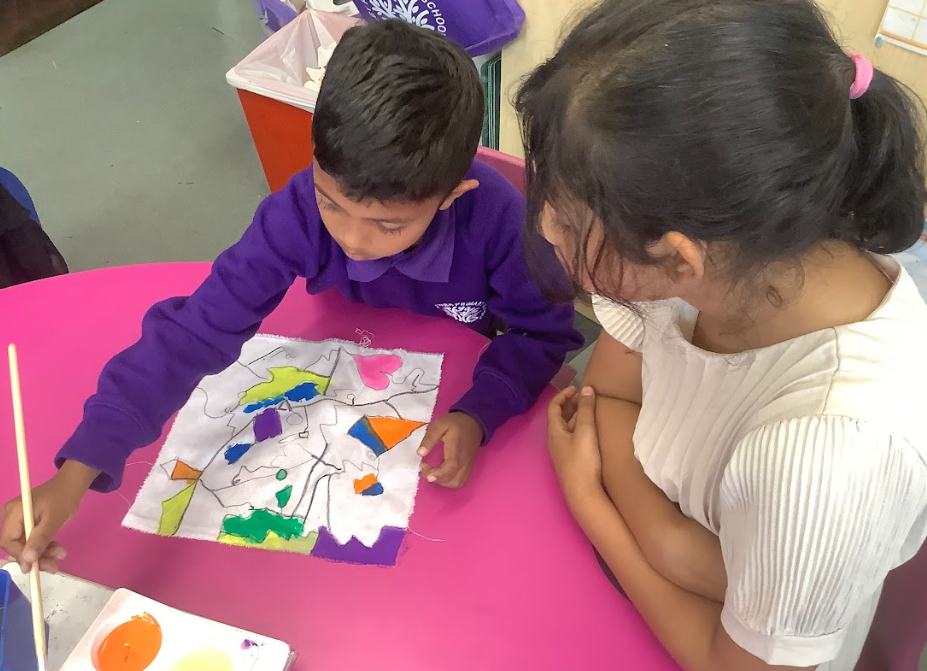 Year 3
We loved taking part in Sports Day! We were ambitious and active and all tried our best. We also benefited from the great support from the Year 6 helpers. We enjoyed the experience of being in a big stadium and imagining ourselves as the Olympians of the future.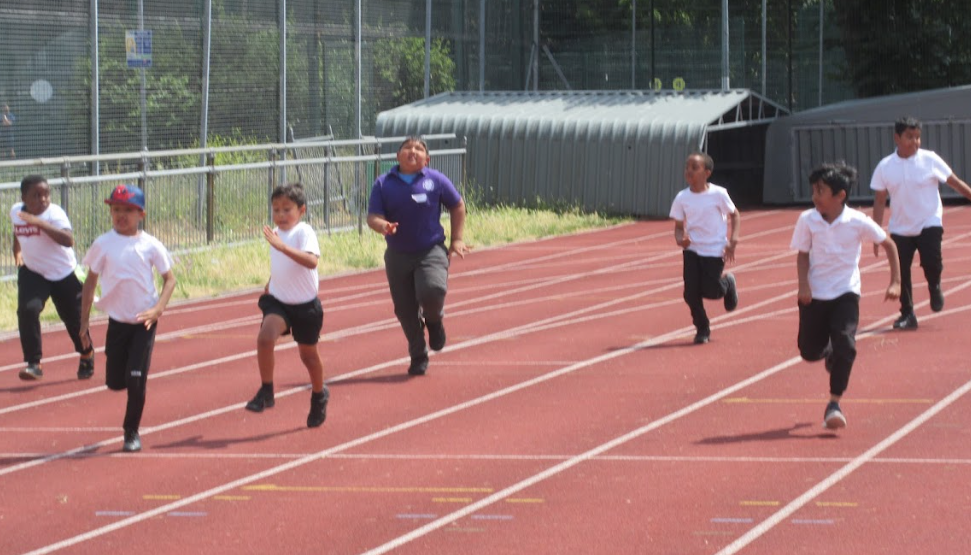 Thank you to our parents who cheered us on and celebrated with us when we won or commiserated with us if we lost. We all tried our best, no matter the outcome, and are proud of ourselves and each other.
Our teachers were awesome too!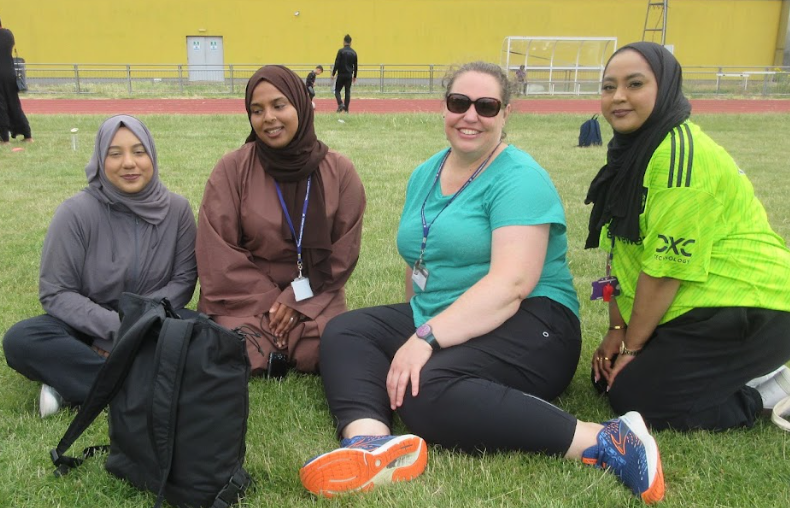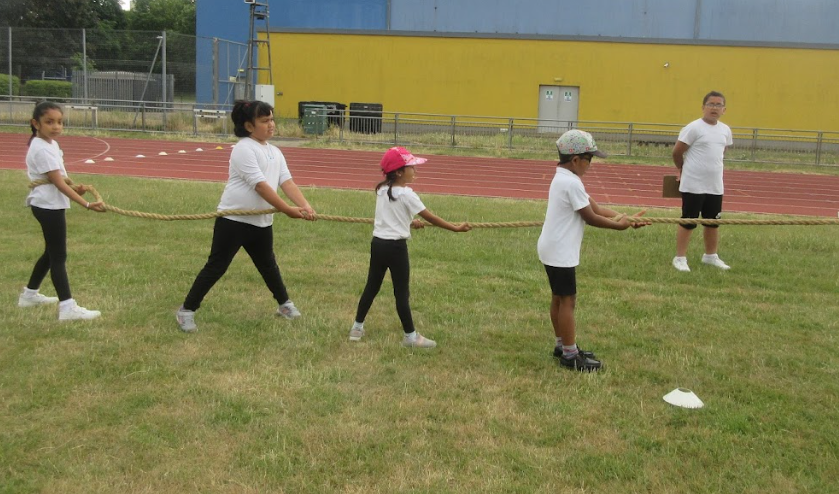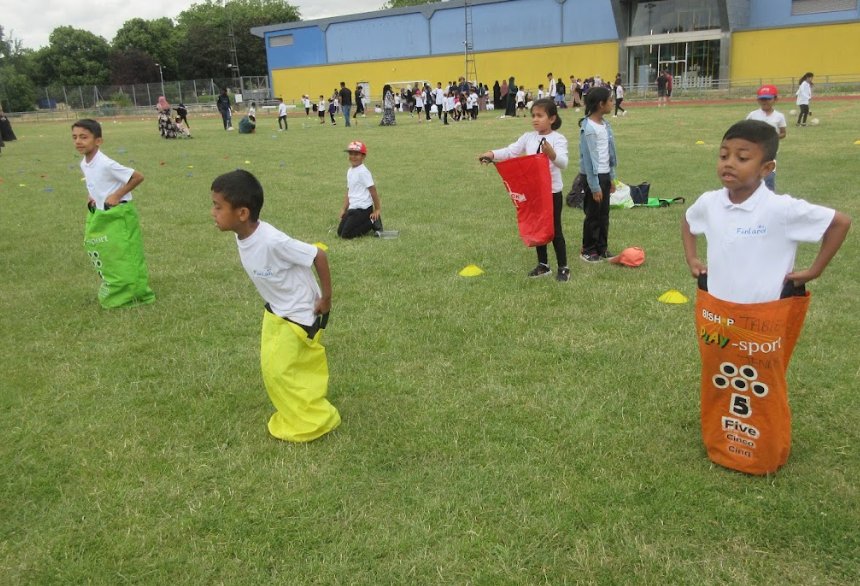 Year 1 and Year 5
In 1 Maple we have been concentrating on using our superhero learning powers by having a growth mindset and showing resilience. And in Year 5 we have been fantastic role models - modelling skills, letting Year 1 children have their turn, and being supportive!
This week we took part in the big draw. We collaborated with Year 5 to make collages inspired by Eric Carle. The children 'painted with scissors' to make their own art work. They cut out the shapes and arranged them on the card to create flowers, animals and ocean settings.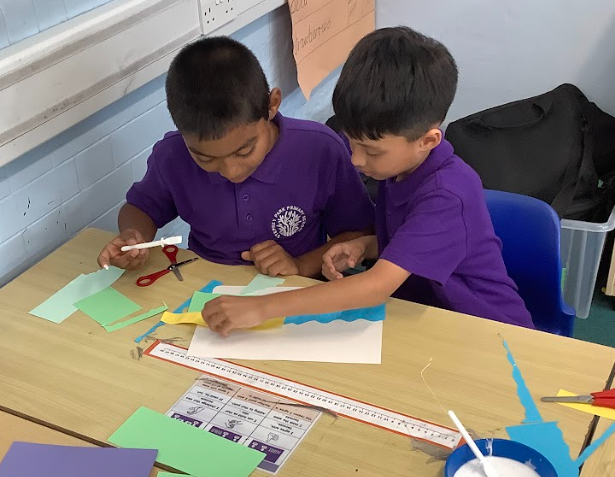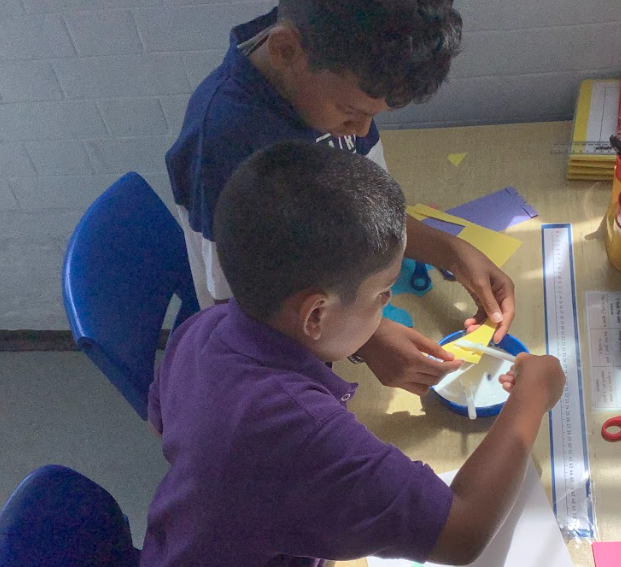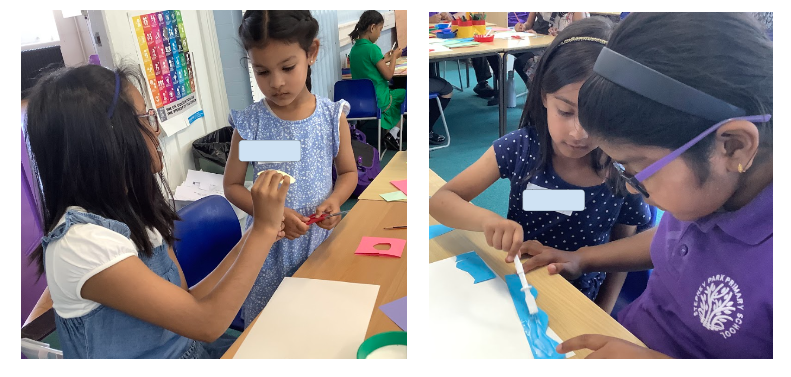 We persevered like Abby and showed ambition because even when we found it tricky we kept trying and instead of saying "I can't do it" we said "I can't do it yet". The children encouraged each other by working together like Colin and telling each other that we could be successful!
Reception
We read the Bog Baby. The children have been learning all about caring for creatures. As part of this topic the children had the opportunity to go Pond dipping at the Soanes centre where they learnt all about minibeasts. They found a newt in the pond and got to hold it in their hands.
Year 4
This week, 4 Pine and 4 Maple have been showing their fantastic ambition in Sports Day and their curiosity and collaboration when trying new things during The Big Draw on Monday afternoon!
Sports Day
Our children set such high expectations and goals for themselves on Sports Day - we had a range of activities that varied from 100 meter races, 400 meter (!!) races, relay races, and olympic activities such as Tug of War, Hurdles, Long Jump and Javelin! We are so proud of our children and what they set to achieve. It was an incredible day!
The Big Draw
It was fabulous to see the hard work and dedication our Year 4 children put into their drawings during The Big Draw afternoon. We decided to try something new and create Organic Circles and Line Designs collaboratively with children from our partner classes in Year 3 and Year 2. Here are some examples of our brilliant work below!
Doing fabulous collaborative drawing!