What's on for Parents and Families in Tower Hamlets
We will regularly update you with workshops, news, events and opportunities for families in Tower Hamlets and the wider community.
Tower Hamlets Healthy Lives and Families Update
Here are newsletters from The Healthy Lives Team and Families Matter, from Tower Hamlets. They regularly share relevant information, activities and resources to support your ongoing health and wellbeing. We will add their new information here.
Click on the images to subscribe to their updates.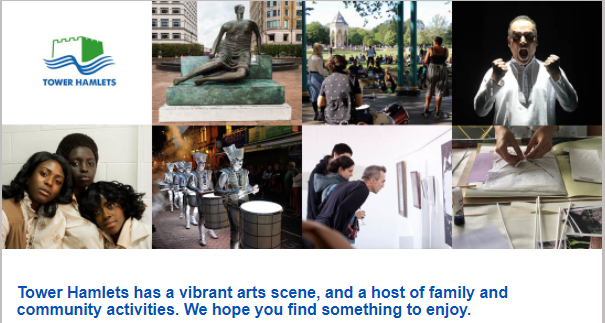 Click on the date below to take you the information.
What's On
Healthy Lives
Families Matter
January
January
Jan and February

Includes:

Holocaust Memorial Day

Art Classes at the Brady Centre

Winter Lights at Canary Wharf

Includes:

Healthy Start

Vaccination Clinic

Mental Health Week

Includes:

Great events for families over half term.

Half Moon Theatre club

Mental Health Week

Families Matter
What's On
Healthy Lives
Families Matter
November
December
December
December

Includes:

Online parenting discussions with Triple P

Healthy Start Vouchers

Online safety workshops

Applying for Reception

Includes:

Festive fun in Victoria Park

List of Christmas Markets

Whitechapel Family Workshop

Henna Workshop

Includes:

Vaccination clinics

The Eatwell guide

Top tips for talking about feelings

Healthy Start Vouchers

Includes:

Applying for Nursery and Reception

Encouraging Good Eating Habits

Rich Mix Textiles Project

Families Matter
Healthy Lives
What's On
Healthy Lives
September
October
November
November

Includes:

Applying for Secondary Schools

Half term childcare

Online safety sessions

Parent network

Includes:

Become a Healthy Families parent ambassador

Information on Sugar and Health

Ideas around Healthy snacks

Includes:

Bangla Festival

Painting Workshops

SM Adad exhibition

Festival of Print

Includes:

Free football lessons for SEND children

Women in sport

Advice on Autism Spectrum Disorder and fussy eating
Previous dates archived.
There is a wealth of information for further parental support on their website - Parental Support