Tower Hamlets Annual Parent Conference 2021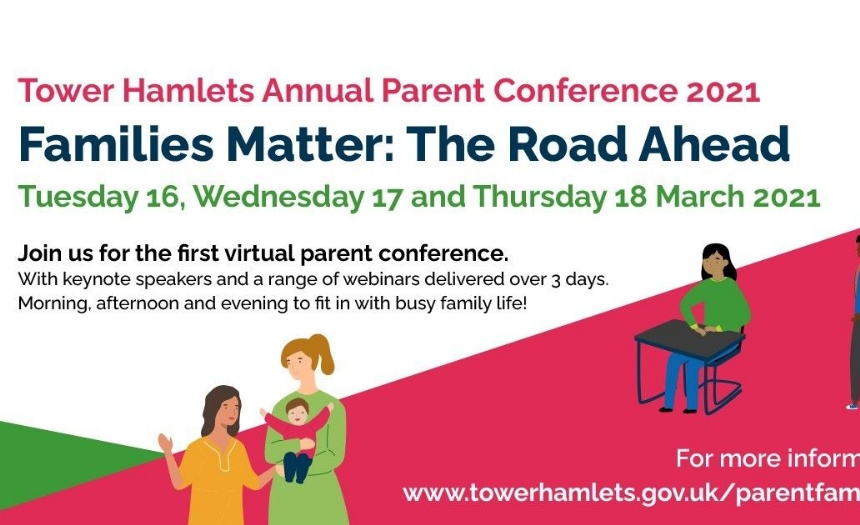 REGISTER NOW - ANNUAL PARENT CONFERENCE 2021
Families Matter: The Road Ahead
Tuesday 16, Wednesday 17 & Thursday 18 March
FREE online conference planned with parents for parents.
The full range of events and dates is in this link:
https://www.localoffertowerhamlets.co.uk/blog_articles/3015-tower-hamlets-annual-parent-conference
As the government announces its 'roadmap' to cautiously ease lockdown restrictions in the months ahead, the Parent and Family Support Service welcomes parents, carers and guardians to join the first virtual conference with keynote speakers, webinars and workshops taking place over three days to fit in with busy family life.
Keynote speakers include:
Tracy Smith, Executive Director, Tower Hamlets Education Partnership
James Thomas, Corporate Director for Children and Culture
Cllr. Asma Begum, Deputy Mayor and Cabinet Member for Children, Youth Services and Education
Join us for webinars and workshops on a range of topics including supporting parents' and children's mental health, resilient parenting, education, financial wellbeing, a daily SEND Q&A and much more.
Zoom invites for the opening and keynote speaker sessions each day, plus any chosen webinars, will be emailed to registered participants in advance.
Prize draw
Each participant of a webinar/workshop will be entered into a prize draw to win family tickets from our conference partners, including Rich Mix, Half Moon Young People's Theatre and Discover Children's Story Centre.
Book now
Booking information for the three days can be found on the Eventbrite links below.
DAY ONE

► Tue 16 Mar: Back to School and Building Resilient Learners

DAY TWO

► Wed 17 Mar: Building Resilient and Healthy Families

DAY THREE

► Thu 18 March: Building Resilient Communities and a Strong Parent Voice
Times vary by date - register first to be sent dial-in details later.
For more information email the Parent and Family Support Service.