June in Tower Hamlets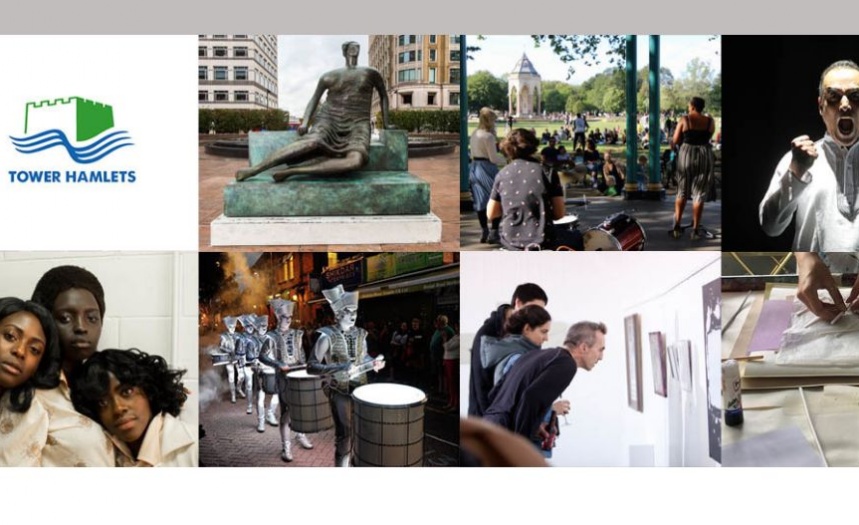 Tower Hamlets has a vibrant arts scene, and a host of online family and community activities. We hope you find something to enjoy.
There are some of the highlights below.
Please click on the link to find out more about interesting community and arts events happening across Tower Hamlets.
Image: Kois Miah
Tower Hamlets Local History Library & Archives continue their Bangladesh 50 events.
Denied adequate housing by local councils and facing the rise of racist violence from the National Front, in the 1970s hundreds of Bengali families squatted properties in Tower Hamlets.
Featuring Shabna Begum (QMUL) and conversations with Husnara Matin and Helal Abbas who were squatters from the time, the session will establish and explore the significance of this form of activism to Bengali homemaking in the East End. Book your free ticket
Image: Reading Evening Post, 16 December 1971 courtesy of British Newspaper Archive
As part of our celebrations of Bangladesh@50, we have commissioned three organisations to provide unique insights into 1971. This covers the nine month duration of the Liberation War of Bangladesh. The results include local testimonies, essays and media coverage of events to provide an overview of this important era.
This month we are focusing on Brick Lane Circle, who look at the coverage of the Bangladesh Liberation War in British newspapers between March and December 1971.
Great Get Together Tower Hamlets Dads' Play Day
As part of the nation's Jo Cox Great Get Together celebrations and in partnership with the Tower Hamlets Parental Engagement Team, Tower Hamlets Dads' Network bring you a day of creative family activity and fun to mark Father's Day 2021.
This is a special day for children and parents to enjoy together, and you are invited to Rich Mix to hear more about family activities in Tower Hamlets. This is great reminder that, as Jo Cox said, 'We are far more united and have far more in common than that which divides us'.
Join us for creative arts and crafts, hands-on healthy eating activities, decorating pots for planting up, refreshments and chat. Book online.
This June, see Roman Road transformed into a public photography exhibition!
In 2020, Four Corners ran an open call for photographs documenting community and culture on Roman Road, East London.
Local photographers sent in an array of images, from lively snapshots to thoughtful portraits, prints taken long ago as well as recent impressions of lockdown.
Roman Road businesses were invited to select their favourite photographs to display in their shop windows. Shown together, they will create an outdoor exhibition along the road.
Collect a map from Four Corners and take to the streets to explore this exhibition of street photography, celebrating the people and places that make Roman Road the vibrant place it is today.
Don't forget to pop into Four Corners' Gallery to see some old, some new and some imaginary photographs of Roman Road.