IDEA STORE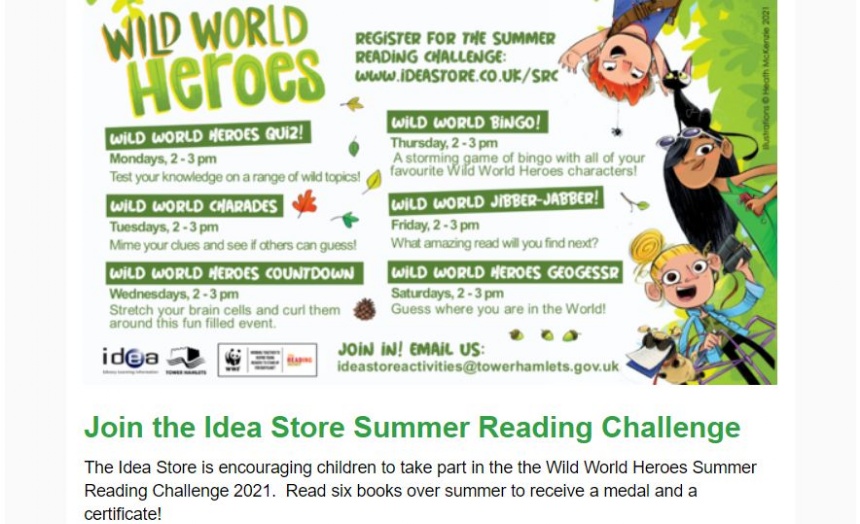 Go Wild for Reading this Holiday!!
We want all children at Stepney Park to continue reading this holiday. This reading challenge at the IDEA store is perfect for that. Louisa and Chris N can't wait to talk to you in September about all the great books you read and how you did on the challenge - you can bring your medals in to show us!!
Read 6 books over summer and you'll receive a medal and a certificate! Register online or at your local Idea Store or library.
Release the hero in you!
You can track your progress and add books to your Wild World Heroes account online!
Our Wild World Heroes activities have moved online. All activities will take place on Zoom. Email ideastoreactivities@towerhamlets.gov.uk before 11am on the day of the activity, and we'll send you the code and instructions to join. Places are limited on a first come first served basis. Children must be accompanied by an adult at the start of the activity.

Wild World Heroes Quiz!
Starts Monday 19 July
Mondays, 2:00 - 3:00pm [Ages 5 - 12 years]
Filled with questions to test your knowledge on a range of wild rounds! A rumble in the jungle of wild world heroes!

Wild World Heroes Charades! [Ages 5 - 12 years]
Starts Tuesday 20 July
Tuesdays, 2:00 - 3:00pm
Test your acting skills by miming a book or film and see if others can guess the name. Lots of wild fun!

Wild World Heroes Countdown! [Ages 5 - 12 years]
Starts Wednesday 21 July
Wednesdays, 2:00 - 3:00pm
Wild World Heroes word battles start here! Stretch your brain cells and curl them around this fun filled event. Roooaaarrrrr!

Wild World Heroes Bingo! [Ages 5 - 12 years]
Starts Thursday 22 July
Thursdays, 2:00 - 3:00pm
A storming game of bingo with lots of Wild World Heroes characters. Will you be first to spot them? Prepare to become a Hero!

Wild World Heroes Jibber-Jabber! [Ages 5 - 12 years]
Starts Friday 23 July
Fridays, 2:00 - 3:00pm
Chat about a book, an amazing fact or something you've made. What will you read, discover or make next?

Wild World Heroes Geoguessr! [Ages 5 -12 years]
Starts Saturday 24 July
Saturdays, 2:00 - 3:00pm
Guess where you are in the World!
Our Idea Stores are open! You can borrow any 6 books from your local Idea Store or library to complete Wild World Heroes. Alternately, you can dowbload eBooks and audiobooks from our eLibrary for free!
Need help choosing your next Wild World read?
The Wild World Heroes Book Collection is full of fun nature-themed reads specially chosen for the Summer Reading Challenge 2021.
Need recommendations on what to read? Then use the Book Sorter! Pick your favourite types of books and see what others are reading.
Need some help signing up or have a question about the challenge? We're here to help!
How can I sign up for the challenge?
Click on the link here to register it's free to take part in the challenge!
How do I complete the challenge?
This year you can read as many books as you like to complete the Wild World Heroes challenge. You can also come to 6 of our special Wild World Heroes events to get a medal!
What books can I read?
Visit your local Idea Store and you can borrow up to 12 books at a time! You can also read all your favourite books from home or school, or download loads of our fantastic e-books and audiobooks
Will I still get a medal/prizes?
Yes we have ordered some fantastic medals and you can get them from your local Idea Store when you've completed the challenge!