English
Aims: Reading
Ensuring children leave primary school literate and confident about their reading and writing is one of our primary functions as a school. At Stepney Park, we understand this to mean children achieve four broad aims in reading:
Children acquire the phonic knowledge necessary for decoding to become automatic and for reading to become easy and fluent.
Children develop their reading comprehension and, through engagement with a broad range of texts, are increasingly able to build meaning from the written word.
Children develop the habit of reading both for pleasure and for information.
As we know some of our children enter school with a relatively narrow vocabulary, we make a particular effort to broaden children's vocabulary as they move through the school.
Our Reading Curriculum
Our reading curriculum is built around three sequential phases:
Early reading. Here the focus is on phonics, working towards being able to decode automatically and fluently. At this stage, we also aim to enthuse children about books and reading by reading a very wide range of stories and other texts to and with them.
Developing reading. Once children have a secure grasp of phonics, they continue to develop their reading with a focus on fluency. They continue to read very widely, both fiction and non-fiction, to build their vocabulary and promote a love of reading.
Reading comprehension. Though the focus of all reading is gaining meaning from text, there is a particular focus on reading comprehension and close reading with our older children. This includes discussions about plot, character and themes in novels, as well as about writers' use of language and why they may have made particular choices.
Early Reading
From Nursery, we read a breadth of engaging books which develop language, including the awareness of rhythm and rhyme, alliterative phrases and the understanding of a range of story structures.
When children are ready, generally towards the end of nursery or the beginning of reception, we teach phonics using Tower Hamlets Systematic Phonics Planning, which has been accredited by the Department for Education. Lessons follow the structure: Revise, Read, Hear, Write, Apply. This ensures pupils develop their independence and fluency as they move through the lessons.
We use Phonics Bugs decodable books for guided reading from Reception until the end of the phonics programme to apply and embed phonic skills. These books follow the sets of sounds which are taught during the lessons. This ensures the books children read in guided reading reflect the phonics sounds they have already learnt. We use Bug Club online to access a wide variety of phonetically decodable books.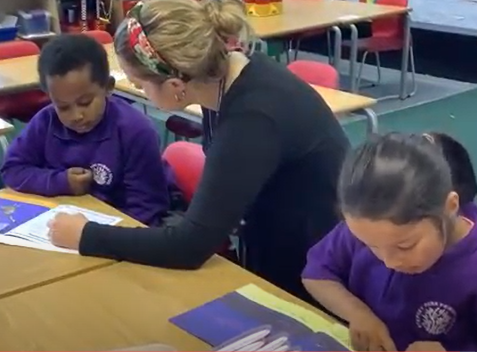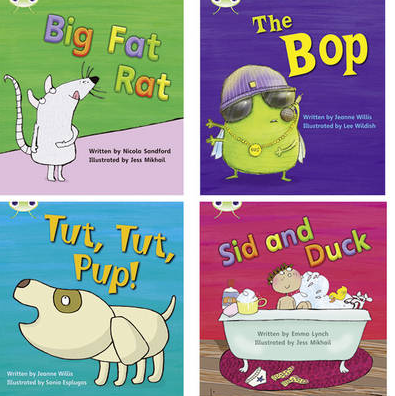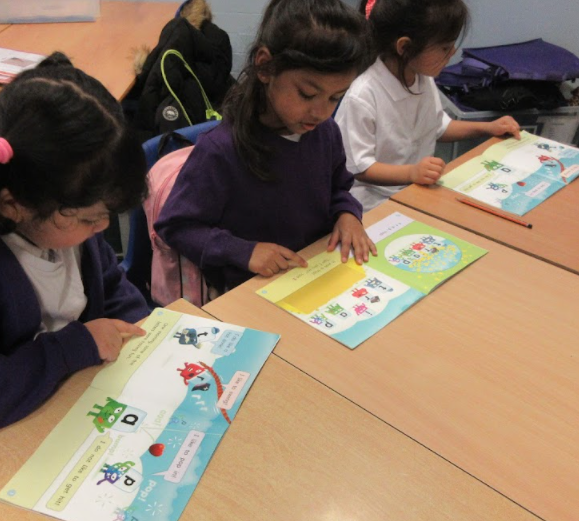 Phonics
We introduce letters a set at a time. Each letter (grapheme) has a sound (phoneme) which it makes most frequently. The phonics programme attaches these to an image and word (mnemonic) to help children recall the sound. The image also helps with the formation of the letters.
How we make the sounds and form the letters:
Phase 2

Phase 3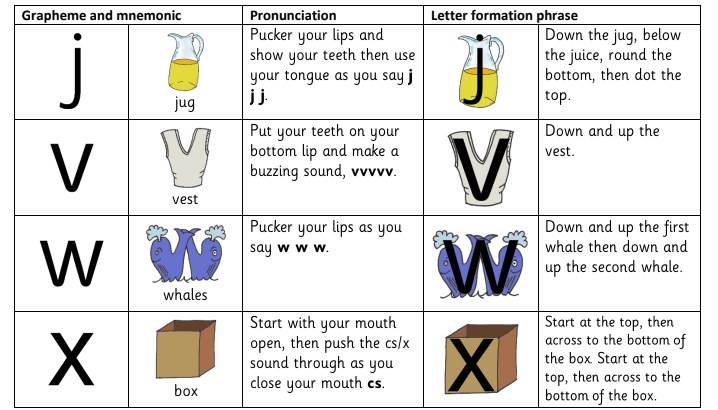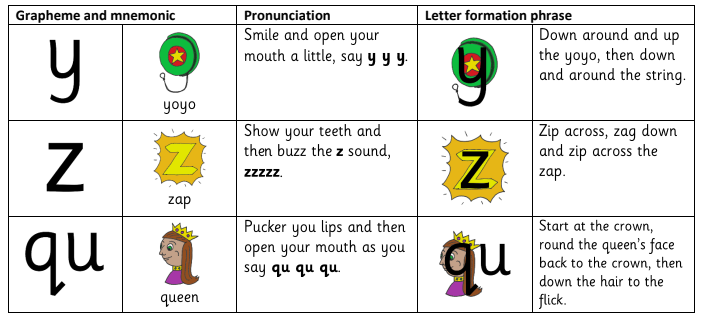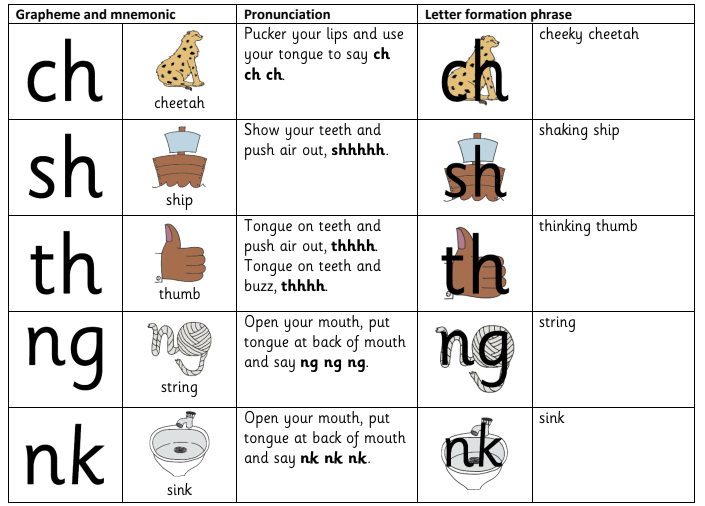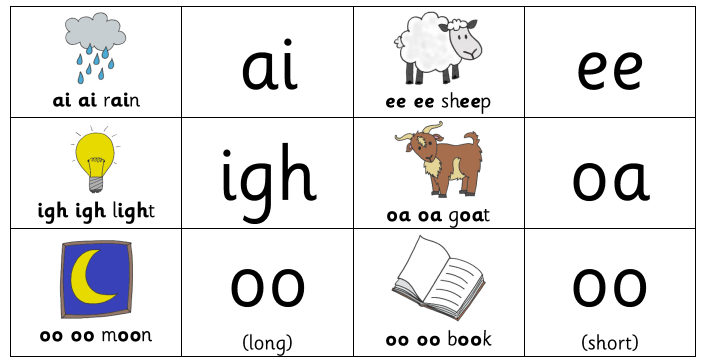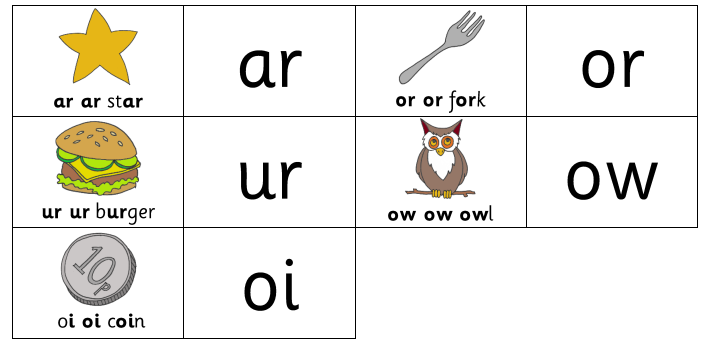 Developing Reading & Reading Comprehension
We want all our pupils to develop a love of reading. Reading feeds pupils' imaginations and opens up a treasure house of wonder and joy for curious young minds. At this stage, children read a very wide range of books in whole class reading sessions. This includes a wide range of novels, as well as engaging non-fiction and full collections of poetry. We have deliberately chosen our core texts to develop cultural capital. We know this provides our pupils with the vital background knowledge required to be informed and thoughtful members of our community. The overview below includes the range of texts that children enjoy at Stepney Park
Pupils at Stepney Park Primary School are encouraged to read for pleasure as well as to support their acquisition of knowledge. As such, they are taught to identify books they love (or dislike!) and explain their reasons for their choices.
Teaching Reading
Reading teaching takes a range of approaches to best meet the needs of children at different stages in the journey of learning to read:
Phonics. This is taught daily throughout reception and year 1. Children may be taught phonics in class or in a smaller group to ensure teaching is focussed on the sounds they need to learn. In year 2, all children review their phonics and, when they are ready, move onto our spelling programme.

Early reading. From reception to year 2, children have daily guided reading sessions. This takes place in small groups with an adult. The books children read are linked to the phonics sounds they have learnt to give children time to embed this learning. This approach to reading continues until children's decoding becomes automatic.

Developing reading. At this stage, generally starting in year 3 and continuing into year 4, we take a whole class approach to reading. Lessons include 'extended reading', where children read longer sections of text and discuss this in their class and 'fluency practice' which is designed to improve children's reading fluency.

Reading comprehension. This structured approach to whole class reading, which begins in year 4 and continues to the end of year 6 focus on developing children's comprehension skills with both modelled and independent practice.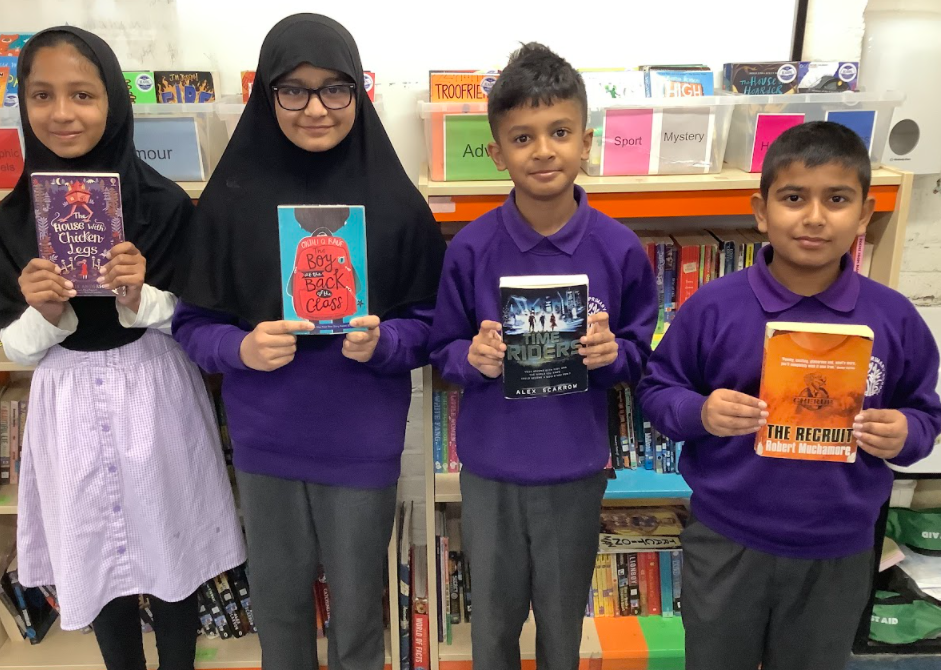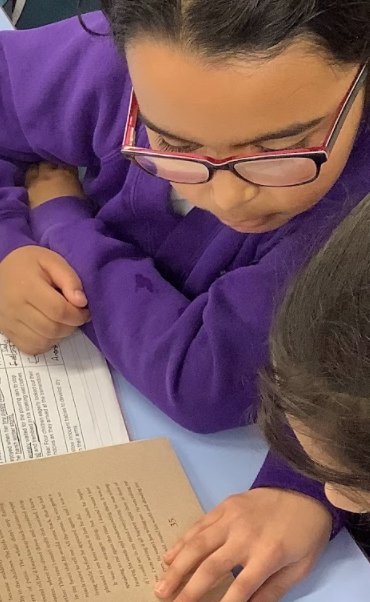 Reading Overview
This overview only includes key stage 2 and younger children read a very wide range of decodable books until their decoding becomes automatic.
Aims: Writing
Strong writing skills are essential not only to children's education now and in the future, but also to their success in the workplace and more widely. At Stepney Park, we have three broad aims for children's writing:
Accuracy. Children develop the knowledge and skills required to write accurately with regard to spelling, punctuation and grammar.

Effective written communication. Children learn to express themselves in writing clearly and coherently, adapting their language and style for the context, purpose and audience at hand.

Breadth of vocabulary. Some of our children arrive at school with a relatively narrow vocabulary. As such, one of the core aims of our English curriculum is to build children's vocabulary.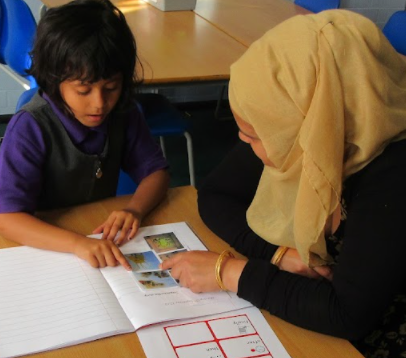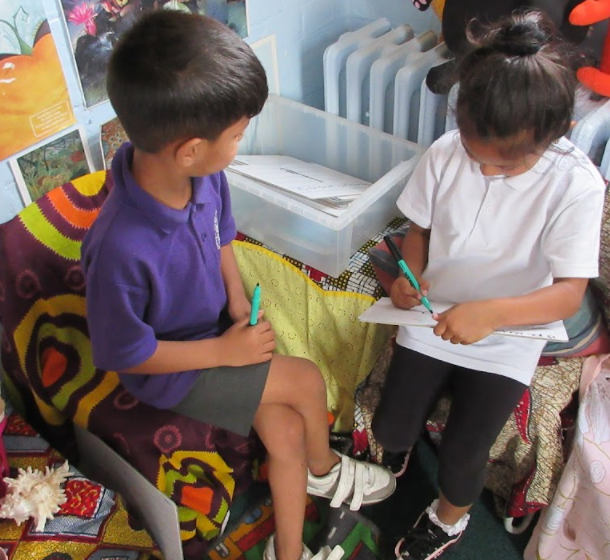 Our Writing Curriculum
We want our writing curriculum to offer children opportunities both to show and to develop their creativity. As such, the curriculum is structured around a range of stimuli, including a fantastic range of texts that inspire children's own writing. Sometimes these are the same texts that children read in reading lessons, while other times they are different to add to the range of stories children become familiar with. In addition, our writing ensures that children have opportunities to write across a range of genres, for different audiences and for different purposes in each year group.
We have mapped out the various skills that children need to develop across the school. This means that there are generally only two or three new skills (e.g. using speech marks or fronted adverbials) for children to learn each term. This allows for regular repetition and practice of previously learning so that children become secure in their writing skills. At Stepney Park, we have a particular emphasis on sentence structure in our writing curriculum. This is because sentences are the building blocks of all writing and, as such, sentence structure is particularly essential for children to master before they leave primary school.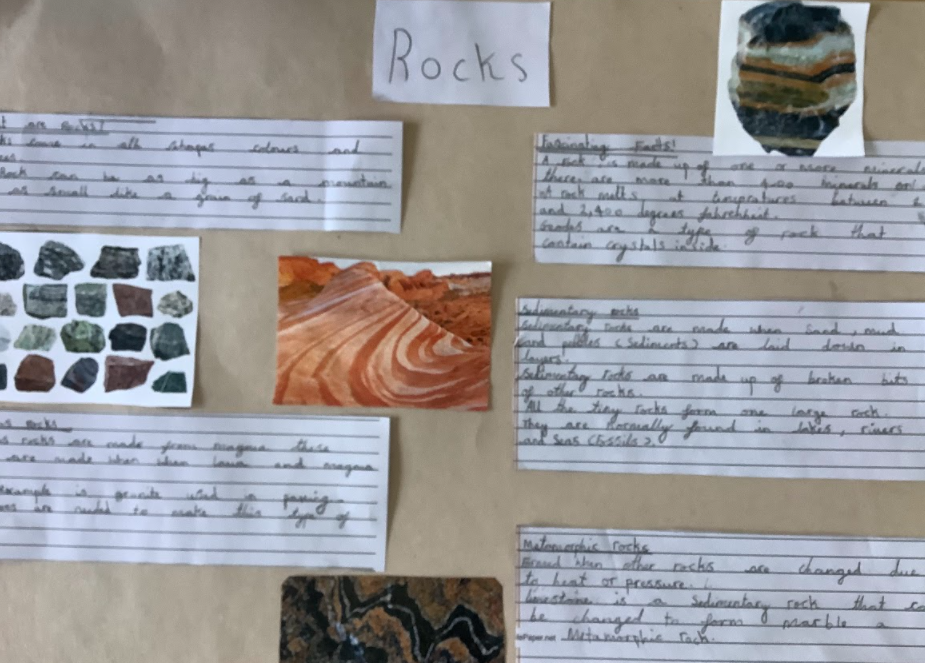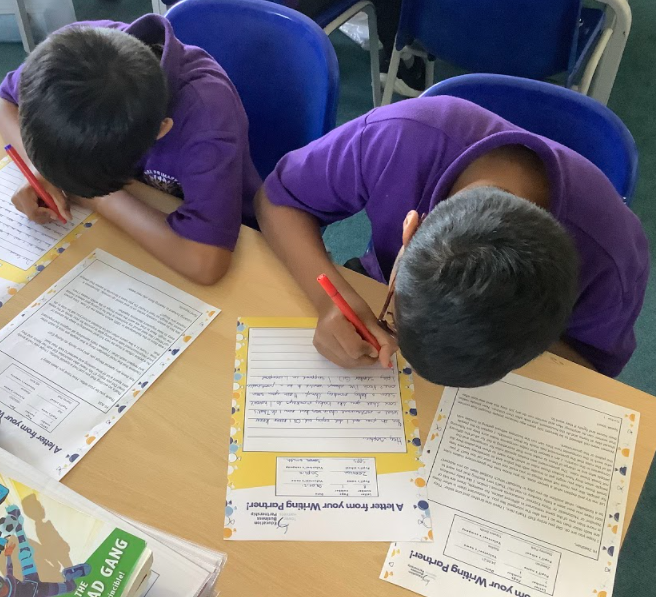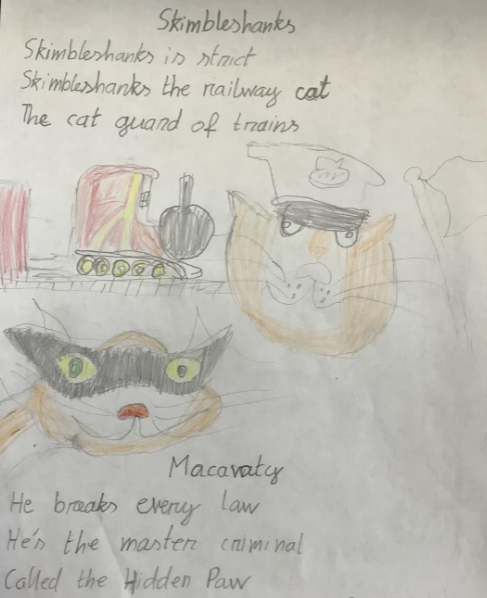 Teaching Writing
We believe that children's talk is a key factor in their ability to write and, as such, we prioritise children's talk and oracy to develop their writing, alongside drama, drawing and experiences.
Children's writing skills are developed progressively as they move through the school. Each unit will have a main writing outcome which will be developed over the week. There are also opportunities for other short writing experiences across the units in order to develop comprehension and specific spelling and grammar foci - these might include: postcards; setting descriptions; diary entries; letters; adverts; character descriptions. Extended writing each week in years 2-6 also allows for the interleaving and retrieval of previously taught genres in order to consolidate these.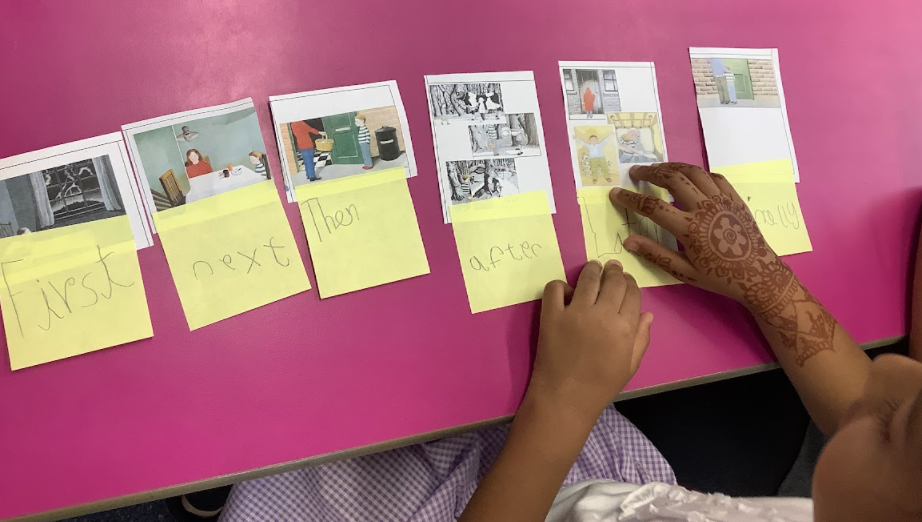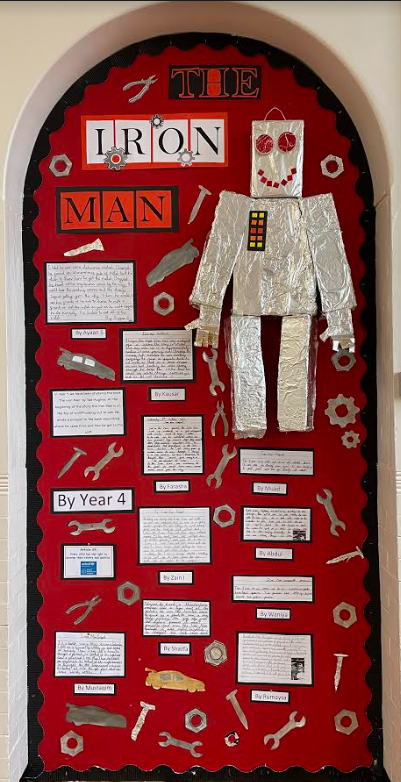 Writing Overview