Other Subjects
We believe all children are entitled to a broad and balanced curriculum: this will help them to develop into well-rounded individuals and informed, engaged citizens. As you will see from the details offered below, at Stepney Park we are ambitious for our children: we know that children need, enjoy and deserve a demanding curriculum so this is what we provide.
At Stepney Park, we have prioritised identifying the skills and knowledge in each subject area that are likely to offer the most benefit to our children and the local community. As a result, our curriculum is subject-specific rather than topic-based. This means that, although links between subjects may be drawn where these are relevant and productive, we have focussed simply on building a rich and demanding curriculum in each subject.
This page offers information about the subject-based curriculum which children study from year 1 to year 6. Although it contains some details about how our EYFS curriculum prepares children for this, you can find more specific information about the curriculum in the early years here.
If you would like more information about the curriculum your child will learn from, please contact their class teacher in the first instance.
Art & Design
Aims
At Stepney Park Primary School, we want children to see themselves as confident artists with constructive attitudes who enjoy being creative. We offer the children opportunities to engage with, be challenged by and reflect on art and the visual world around them. Importantly, we aim for children to learn that Art is a process: they learn to be resilient when they have setbacks, to see mistakes as powerful learning opportunities and to consider for themselves what 'finished' means.
We believe there is a place for our children in the world of Art & Design if they choose it in the future, and we aim to help them realise this and understand the value of Art & Design in our world.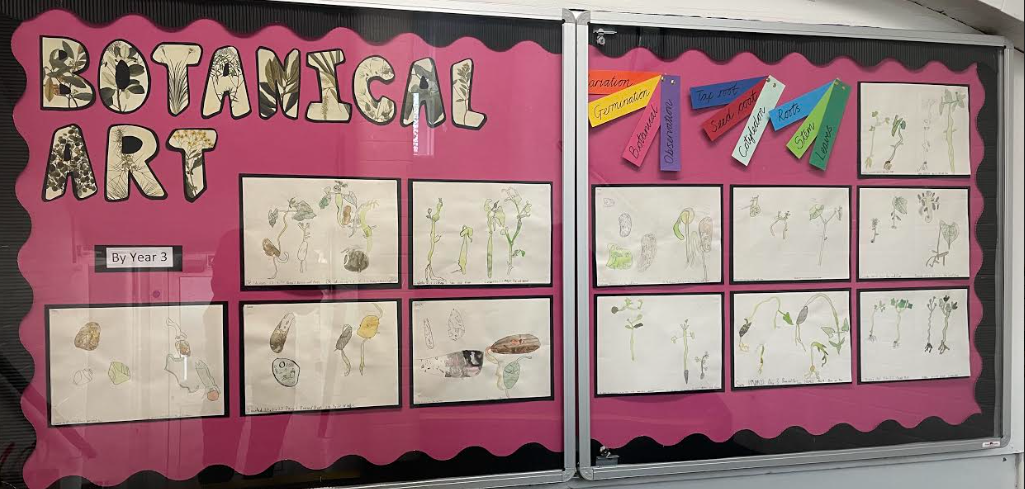 Our Art & Design Curriculum
Our bespoke curriculum is organised around three areas of learning. These are:
Linear, which includes painting, drawing, carving etc

Crafting, which includes sewing, collage, wire manipulation etc

Modelling, which primarily involves sculpture.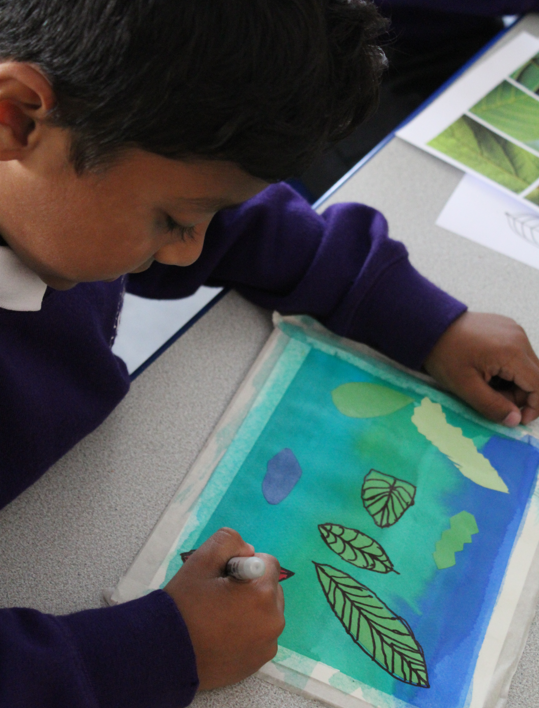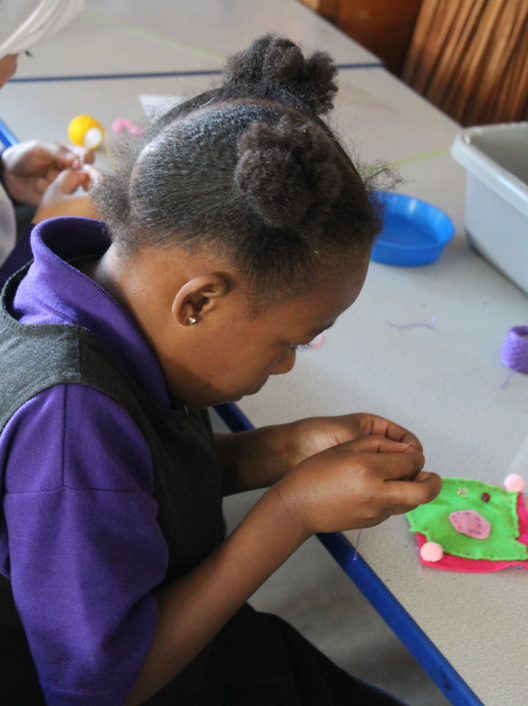 The children benefit from 3 art projects each year, each focussing on one of these areas of learning. The fourth and overarching area of learning is about looking and seeing, which weaves through the whole of the Art & Design curriculum. This is where the children look at and critique compositional elements of their learning as well as the artwork of known artists. Over time, children engage with a mix of celebrated and less well known artists for information and inspiration. In this way, we aim to give a balanced view of disciplines and backgrounds and build the children's cultural capital while also ensuring that they understand art is not the preserve of a famous few.
The Art & Design curriculum gives space to be creative yet also a clear focus to the learning in each project. It is organised to ensure children revisit learning throughout each year and over the years they are at Stepney Park. This gives the children the opportunity both to consolidate their learning and to develop their mastery of techniques.
Our EYFS curriculum prepares children for the rigour of our art curriculum in years 1-6 in a number of ways. Importantly, the EYFS is the starting point for our fourth area of art: children are taught to take time to notice features of the world around them and discuss them with words to describe colour, shape, texture and more. Children also have access to a wide range of art resources to explore linear work, crafting and modelling. The school has developed a sequence of resources to ensure that this exploratory learning develops children's skills progressively. For example, in sculpture children begin by exploring play dough, before later moving on to plasticine and then clay, with each being more difficult to manipulate than the last. Our EYFS curriculum also contains specific opportunities that give children an understanding of important concepts that will support their later learning. For example, given the importance of portraiture in our art and design curriculum, we ensure that all children in reception have the opportunity to work on a self-portrait.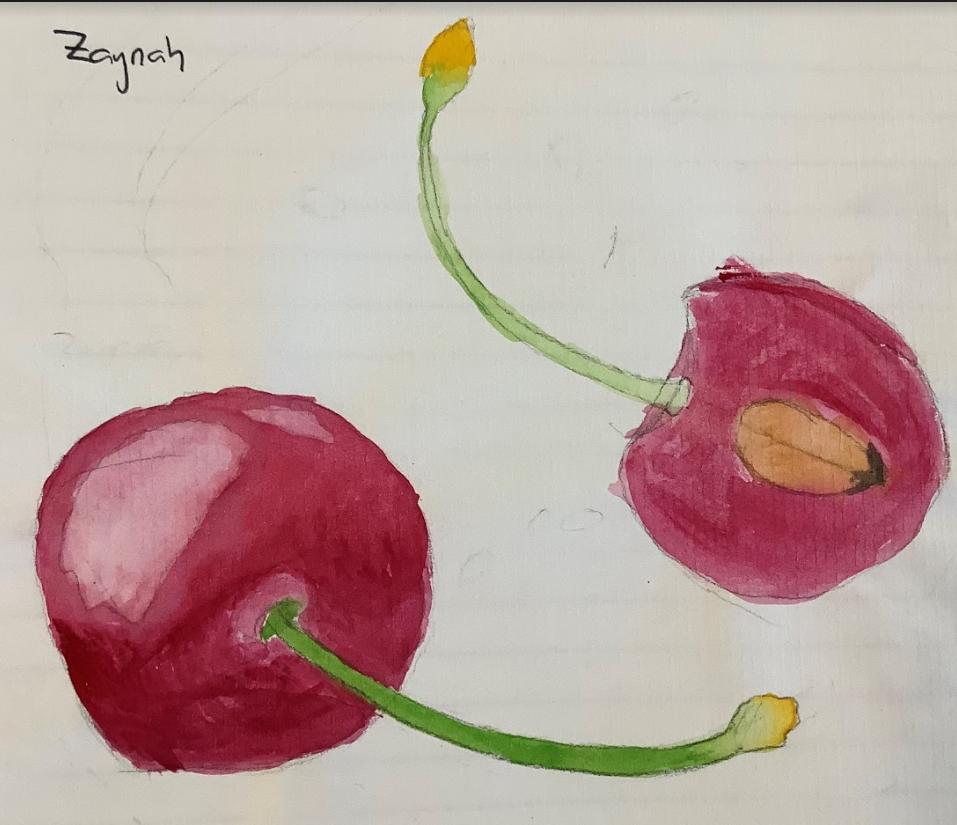 Art & Design Teaching
All Art & Design learning in years 1-6 takes place in our Art Studio, which is run by a specialist Art teacher. The learning is blocked into 3 main projects spaced over the year, each allocated a weekly 2 hour slot in the Art Studio for 4 consecutive weeks.
During every project in the Studio the children will create a piece of art, learn about an artist, develop their sketchbook and self-assess. Extensive discussion about their own and others' art work also contributes to children's development of vocabulary and oracy. Once a given project is finished, the artwork will go on display either in the Art Studio, the classroom or around the school in order to share and celebrate the children's learning and to inspire others. The artwork will be accompanied by images and vocabulary that will support the children's learning as an aide memoire and will explain the learning to anyone viewing it for the first time. The artwork created will always go home with the artist in the end.
Sketchbooks and Assessment books are started in Year 1 and follow the children up to Year 6 and are kept in the Art Studio. They write in their assessment books once at the end of each project and these books will be displayed in their final exhibition in Year 6 before they take them home.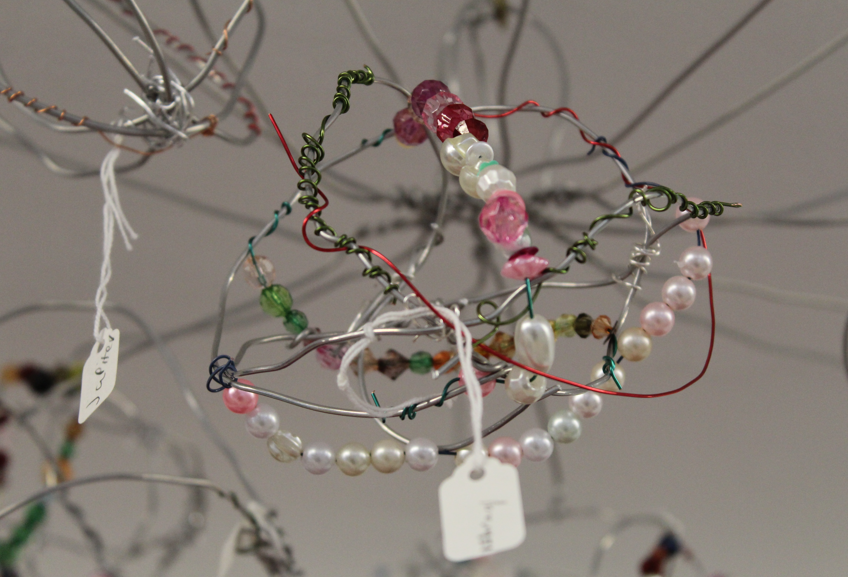 Art & Design Overview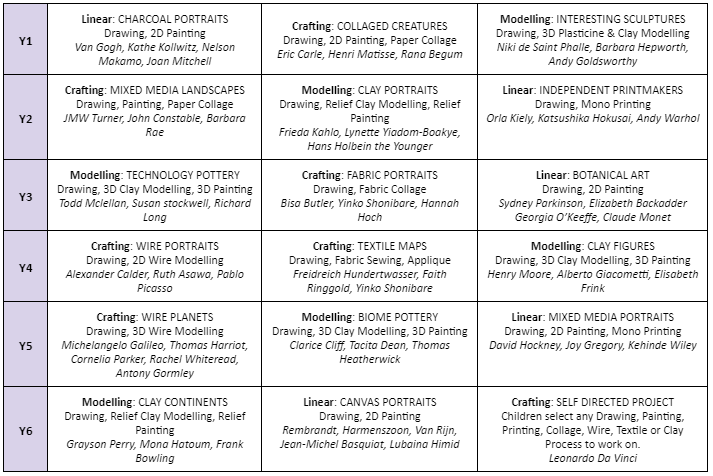 Computing
Computing Aims
Technology is ever more integrated into our lives at home, at work and more widely. As such, we place significant emphasis on children developing the skills they need to use technology effectively. Our computing curriculum aims to ensure children develop an understanding of the concepts of Computer Science, the ability to analyse problems in computational terms and to evaluate and apply information technology. We also aim to help children become responsible, competent and creative digital citizens as they become increasingly confident in their computing skills.
However, at Stepney Park, this is embedded within a wider computing culture: all children in years 1-6 have their own school Chromebook and, as such, the computing skills they develop are applied and reinforced regularly across the curriculum.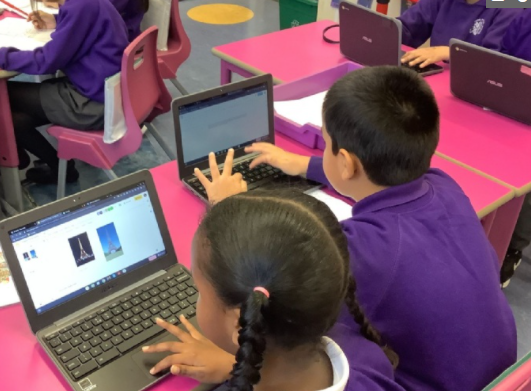 Our Computing Curriculum
Across all key stages, our Computing curriculum draws on Chris Quigley's Essentials curriculum and is split into four areas:
Code. This involves developing an understanding of instructions, logic and sequences.

Connect. This involves developing an understanding of how to safely connect with others, especially online.

Communicate. This involves using apps to communicate one's ideas effectively and creatively.

Collect. This involves developing an understanding of databases and their uses.
Children in EYFS are given opportunities to use technology to solve problems and produce creative outcomes in preparation for the computing curriculum taught in Year 1. They have access to devices such as floor robots and iPads to help them become familiar with what this technology can do and how they can use it for particular purposes. These opportunities also help children to develop skills that are particularly pertinent to computing, such as using a mouse.
In Years 1 and 2, the children begin their study of computer programming and learn how to operate remote devices with their commands; they use a range of applications for different purposes and learn to input and read simple databases. This develops in Years 3 and 4 as the children become more confident in debugging their commands, use a wider range of applications to meet their needs (across a range of subjects) and create more intricate databases that have a purpose. Finally, in Years 5 and 6 the children learn to change variables to impact the input and output of a command, to articulate why they have chosen to complete a task on a particular device and to manipulate data to be presented according to a particular task.
The Connect module, which includes online safety, is woven throughout the entire curriculum. This regular discussion ensures that the children are very aware of how to keep themselves safe whilst using a variety of devices, applications or websites and what it means to have a 'digital footprint'.
Computing Teaching
Our bespoke curriculum is based on the needs of our children and the resources available to them. In years 1-6, each class receives 6 blocks of Computing teaching per year (each lasting 3 weeks), all taught by our specialist computing teacher. These lessons either make use of the children's personal Chromebooks or the computer suite depending on suitability. This is supplemented with additional Computing resources such as a green screen or floor robots. Class teachers supplement the Computing curriculum by teaching and embedding the skills across the wider curriculum.
E-Safety is taught as discrete lessons by the class teacher and the computing specialist but also revisited and discussed with the children at appropriate times.
Computing Overview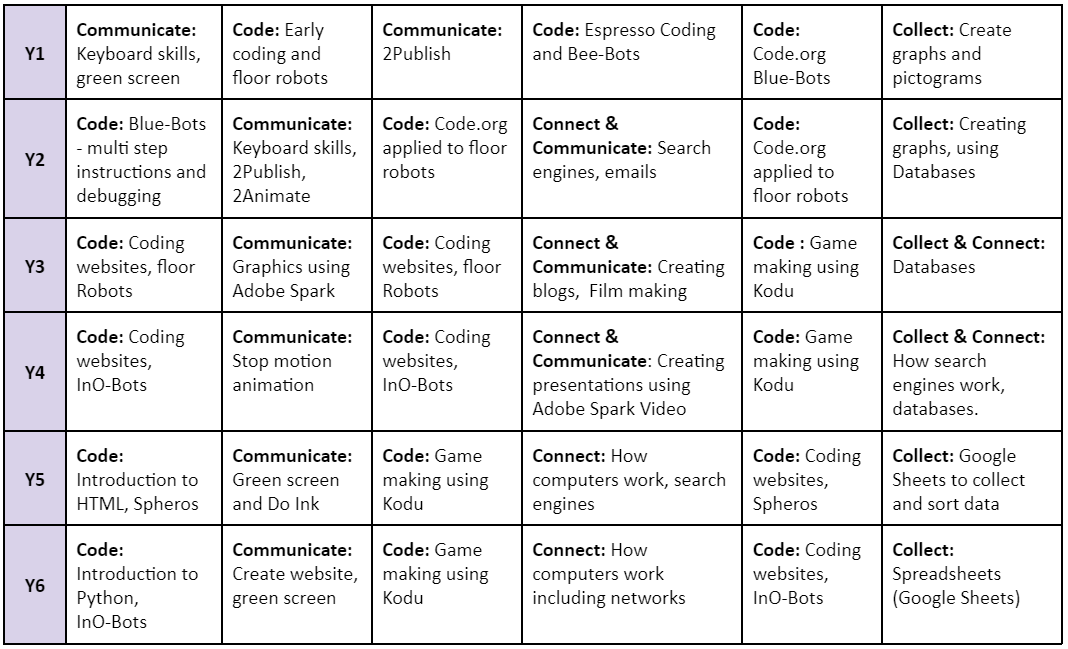 Design & Technology
Design & Technology Aims
In Design and Technology, children are able to bring their creativity and innovation to the fore. We aim for them to learn to evaluate existing designs, understand their impact on our lives and take inspiration from them for their own designs. Children benefit from a wide range of design experiences as they work on a number of design projects each year. As part of these projects, your child will learn to design, make, evaluate and improve their own products, while also developing the physical skills necessary to make their product.
Our Design & Technology Curriculum
Our Design & Technology curriculum is based on Chris Quigley's Essentials curriculum. We have adapted this curriculum so that it works for our school, for example by choosing which areas of Design & Technology to focus on.
Over their time in Stepney Park, children will learn about four broad areas of Design & Technology: structures, mechanisms, food and electronics. The overview below shows what children in each year group learn and how the knowledge from younger years is built upon in older years. At Stepney Park, we have prioritised those units of work that involve food: there is a unit based on food in every year group. This is because we know our children very much enjoy cooking, but also because we believe this is a very important way in which the school can help children to understand what it means to live a healthy lifestyle.
Design & Technology Teaching
At Stepney Park, children benefit from a number of design projects each academic year in key stages 1 and 2. These projects each take place over a single week to allow children to become immersed in the project they are working on. Speak to your child's teacher if you would like to find out when your child's class has their Design & Technology weeks.
Every design project includes four distinct parts:
Learning technical knowledge and vocabulary needed for the project.
Practising skills needed to make the product.
Finding inspiration by looking at the designs of others
Going through the design process of designing, making, evaluating and improving.
Children in nursery and reception do not have specific Design & Technology lessons. However, through continuous provision, they are given opportunities to explore materials, use a range of tools and play with construction in order to develop the skills they will need to access an ambitious Design and Technology curriculum in key stage 1.
Design & Technology Overview

Geography
Geography Aims
In geography, we aim to inspire in children a fascination with the world and its people, helping to connect them to a wider, global community. Over time, children learn about where places are, what they are like and why. This helps them to build a 'mental map', initially centred on the UK, but later including Europe, the Americas and the wider world. Children also develop an understanding of physical and human geographical features, with the ultimate aim of building an understanding of the links between them. Finally, our geography curriculum aims to develop children's geographical skills, including how to conduct fieldwork; the use and interpretation of maps, aerial photographs and other geographical representations and communicating information using geographical vocabulary.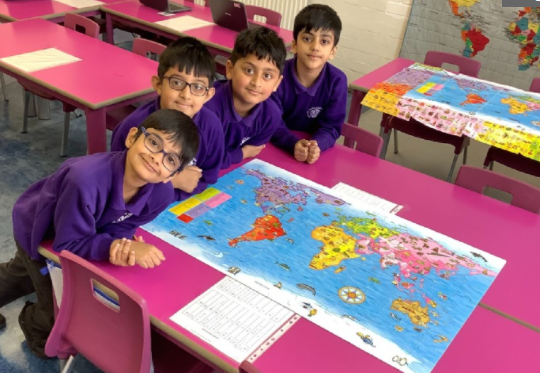 Our Geography Curriculum
In early years, children develop their understanding of a range of concepts, together with related vocabulary, that ensure they are ready for more formal geography lessons in year 1. This includes learning about maps, the weather and different features such as hills, rivers and seas.
In key stage 1, children begin to develop their early understanding of where places are and how they are linked by studying the geography of our school and the local area. There is also a focus on understanding the diversity of places around the globe: for this reason, children learn about extreme weather, hot and cold places and seas and oceans. In key stage 2, our geography curriculum takes an increasingly broad view as children move through the school. In year 3, children focus on the UK, before moving on to Europe and the Middle East in year 4, the Americas in year 5 and the globe in year 6. Children learn about specific physical processes, and their consequences for humans, within this context. For example, year 3's learning about coasts is based in the UK to build on their earlier learning of British geography. Across key stage 2, all year groups begin with a unit of work devoted to locational knowledge. This allows children to acquire a strong understanding of where places are and develop their mapping skills before beginning to look in more detail at the human and physical features of the regions concerned.
Our geography curriculum is designed to ensure children develop both their geographical knowledge and wider geographical skills at the same time. Each unit of work not only has a knowledge focus so that children learn specifically about, for example, transport, rivers or plate tectonics; it also has a focus on a geographical skill such as interpreting maps, comparing and contrasting places or understanding aerial photographs. This focus in each unit ensures children develop these essential geographical skills as they move through the school.
Geography Teaching
In early years, children's geography learning is part of their development in understanding the world. As such, they benefit from a range of types of activities throughout the school year. Teachers in the EYFS setting plan for activities specifically to develop children's understanding while also capitalising on opportunities presented through children's play to reinforce and further develop their vocabulary.
In key stages 1 and 2, children study a unit of work for three weeks in geography before moving on to history, RE or DT. In total, children learn from 3 or 4 units of work in geography each year. These have been sequenced not only to ensure a logical order in children's learning in geography, but also more widely across the curriculum. For example, we have chosen to teach children about the countries of Europe in geography before they learn about the Roman Empire in history as the former will help their learning of the latter. In general, each unit of work begins with a review of the relevant locational knowledge to ensure children are ready for the unit before they move on to the remaining content. In some units, this is followed by field work to support children in developing these skills.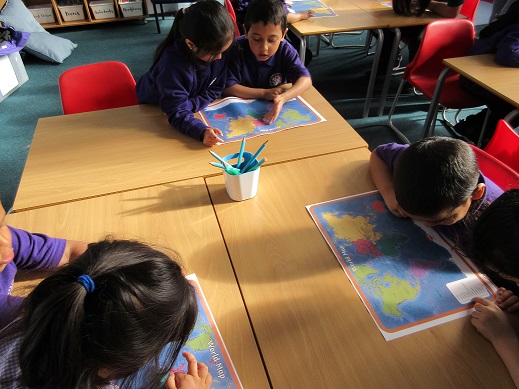 Geography Overview

History
History Aims
History has the power to help children understand other cultures and societies, as well as how our own has come to be. Our history curriculum aims to give children an understanding of the features of a wide range of historical periods and civilisations as well as the links between them, allowing them build a chronological framework of the past. In addition, we aim for children to develop historical skills such as using sources and comparing and contrasting different periods. Children also learn about significant historical figures and how they came to be so.
Our History Curriculum
In early years, we ensure that children develop an understanding of specific historical concepts and vocabulary to ensure they are ready for year 1. This includes learning about what kings and queens are and looking at historical photographs. In key stage 1, our history curriculum focuses on themes through history such as the history of transport or food to develop children's sense of chronology. Children also learn about significant historical events such as the Great Fire of London and significant historical people such as Elizabeth I. In key stage 2, our history curriculum is chronological: children study prehistory and ancient history in year 3, classical history in year 4, medieval history in year 5 and modern history in year 6. This approach aims to provide children with a broad chronological sweep of British history, as well as an understanding of historical periods and societies in other places around the world.
We have worked hard to organise our curriculum so that children develop both their history knowledge and wider history skills at the same time. In addition, we have made sure that children have regular opportunities to revisit their learning so they don't forget it. Importantly, our history curriculum reflects our wider school values: children learn about history from around the world so that, though there is a focus on British history, children's understanding of history takes in far more than just the West.
History Teaching
In early years, children's history learning is part of their development in the understanding the world strand of the curriculum. As such, they benefit from a range of types of activities throughout the school year. In key stages 1 and 2, children study a unit of work for three weeks in history before moving on to geography, RE or DT. In total, children learn from 3 or 4 units of work in history each year. In general, each unit of work begins with children understanding the bigger picture of a time period, before learning more about the specifics and finally building their historical skills.
We have sought to ensure that our history teaching reflects the findings of educational research. As such, children, especially in key stage 2, read extensively in history lessons. They also represent their learning in a wide variety of ways, including timelines, diagrams and tables as well as extended writing.
History Overview

Modern Languages (Spanish)
Spanish Aims
Our Spanish curriculum has two primary aims. Firstly, we aim to equip children with the knowledge of vocabulary and grammatical structures to be able to express their thoughts and ideas in Spanish, both in speech and writing, and to begin to understand spoken and written Spanish themselves. This will give children a foundation in Spanish, but also the underlying skills to learn other languages too. Our second aim is to give children an introduction to other cultures by learning about the culture of Spain and other Spanish-speaking countries.
Our Spanish Curriculum
Our Spanish curriculum is organised around a core theme each term. This ensures that children have a context for the Spanish they are learning: this core theme informs much of the vocabulary and new grammatical structures that they learn in that term. There are also specific grammar points for children to learn in each term. This grammar is carefully sequenced to ensure children build their understanding of grammar slowly over time. Not only will this give children a better knowledge of Spanish, it will also help children understand grammatical concepts that can be applied to other languages in the future (e.g. verb conjugation).
Learning a language requires children to add new knowledge of vocabulary and grammar to their existing knowledge over time to build their fluency and ability to understand the new language. This means it is especially important that children have regular opportunities to review their previous learning in Spanish. It is for this reason that there are a number of units of work across the curriculum where children focus on reviewing the Spanish they have learnt before to build their fluency.
Spanish Teaching
We take a broadly communicative approach to the teaching of Spanish: our emphasis is on building children's Spanish vocabulary and repertoire of grammatical constructions so that they can use Spanish in a variety of circumstances. More formal aspects of grammar are introduced more slowly over time. Our Spanish curriculum is taught by a native Spanish speaker: this means children benefit from regularly hearing authentic Spanish in the classroom. Though the specific focus of Spanish lessons may vary from one lesson to another, in general they all involve children practising all four skills of language: listening, speaking, reading and writing.
Spanish Overview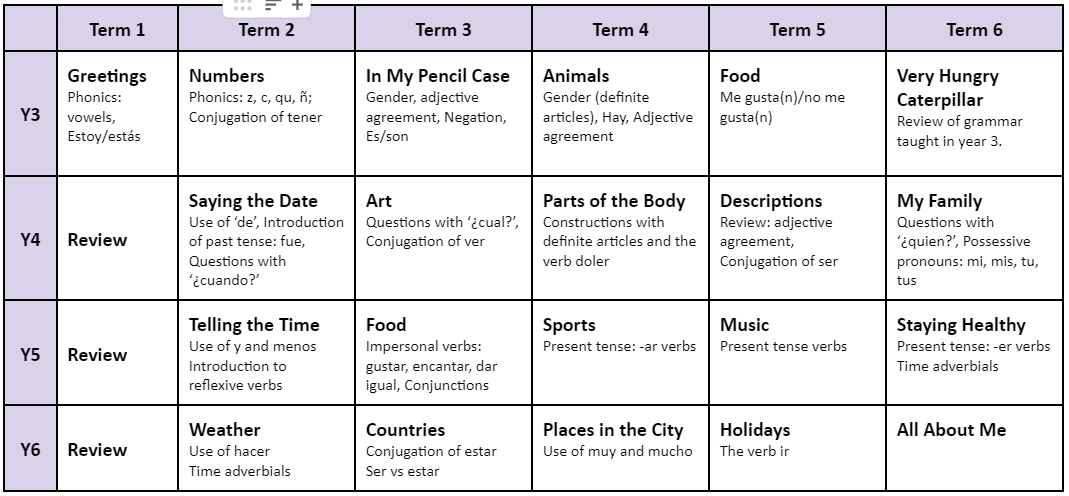 The school is currently in the process of transitioning towards this overview. Due to COVID-related disruption and the fact that our two predecessor schools taught different foreign languages, not all classes and year groups are currently learning the material planned in the overview above.
Music
Music Aims
Music is part of life at Stepney Park: children regularly sing together, learn to play a range of instruments and enjoy listening to a wide range of types of music. Our music curriculum overall aims to develop children's instrumental skills through regular instrumental tuition, to develop their appreciation and understanding of a wide variety of music from around the world and to give them opportunities to innovate and compose their own music. This is accompanied by some more technical music teaching: children learn to describe the dimensions of music (e.g. dynamics, tempo, timbre etc) and to use formal and informal music notation.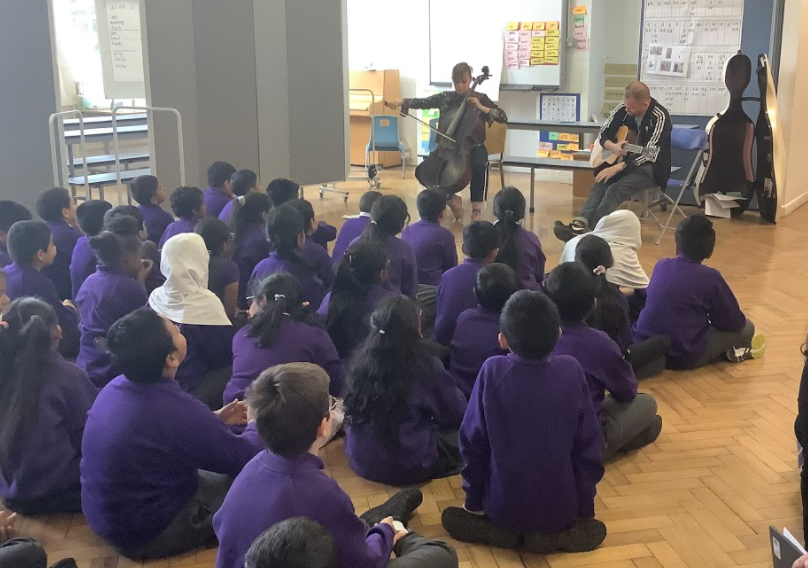 Our Music Curriculum
Our music curriculum is based on a pattern of alternating terms in years 1-6. Every other term, our music curriculum focuses on instrumental tuition, which is led by specialists from THAMES. Years 1 and 2 learn to play African drums, years 3 and 4 learn to play the recorder and years 5 and 6 learn to play the ukulele. In those terms when a class does not have instrumental tuition, we use units from Music Express to focus on improvisation and composition. Each year group begins with a Play and Perform unit to familiarise themselves with a range of instruments and types of music before moving on to use this knowledge in Improvise & Compose units. These units are organised around a particular theme such as 'Solar System' or 'World Unite' to support children in understanding the power of music to express ideas and feelings. These units of work also build children's knowledge and understanding of some more formal aspects of music, such as notation and the language used to describe music (e.g. tempo, timbre, dynamics etc). Importantly, many of these elements are repeated multiple times over the course of our curriculum to ensure children learn and remember more.
In addition to lessons in class, a weekly music assembly in year groups gives children a regular opportunity to listen to and discuss well-known pieces of music as well as to sing together. Furthermore, we offer an enriched curriculum to children who are especially interested in music through small group tuition. At present, this includes small groups of children learning the violin, the cello and the flute.
Our children in early years are prepared for the music curriculum in year 1 with a wide range of rich musical experiences. They sing regularly, learning and remembering whole songs, and they explore a range of musical instruments alongside other ways of making sound.
Music Teaching
As described above, our music provision is shared between specialist teaching, in-class lessons and music assemblies. We believe this makes for a rich music education as children move through the school. Children have regular opportunities to listen to and discuss music, to develop their skills in playing musical instruments and to build their more formal knowledge of music. Furthermore, we believe that it is an essential part of our music provision that children have opportunities to perform to an audience. As such, children regularly perform to each other in class, as well as in larger performances to the wider school community.
Children in nursery and reception do not have specific music lessons. However, they regularly sing and, through continuous provision, they are given opportunities to explore musical instruments and other ways of making sound in order to develop the skills they will need to access an ambitious music curriculum in key stage 1.
Music Overview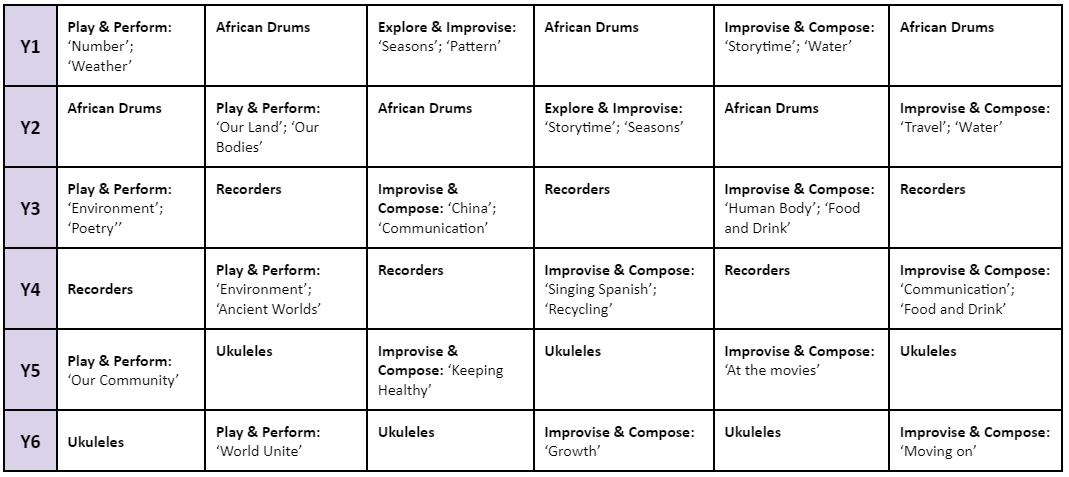 Physical Education
PE Aims
High quality PE has the power to support children to develop the habits that will help them lead healthy lifestyles, as well as enjoying the fulfilment that sport and physical activity can bring. As such, our PE curriculum has three primary aims. Firstly, we aim to develop children's understanding of what it means to live a healthy lifestyle, and the vital role of physical activity within this. Secondly, we aim to develop children's skills across a range of sports and other physical activities. This naturally includes physical skills, but also others such as strategy and tactics. Finally, we aim to teach children to engage positively in competitive sport, including how to win well and lose well.
Our PE Curriculum
Our PE curriculum draws extensively on the resources provided by PE Hub, though this is supplemented with DDMix for dance lessons. In general, the PE curriculum for children in key stage 1 is based on skills (e.g. jumping, throwing and catching etc) and children develop these through practice and playing fun games. When children move into key stage 2, the PE curriculum is structured around specific sports, which allows children not only to develop their physical skills but also to learn about tactics and strategy in a range of sports. Importantly, children return to the same set of sports each year as they move through key stage 2. This means that children have the opportunity to return to previous learning to develop their skills further and, ultimately, achieve a higher level of proficiency by the time they leave Stepney Park. As you will see in our overview below, we believe this achieves a good balance between children experiencing a range of sports and having enough time to develop their skills in each individual sport. This range of opportunities is also supported by children having units of work in dance and gymnastics every year.
Children in EYFS prepare for our PE curriculum in a number of ways. Primarily, our early years setting provides a broad range of opportunities for children to develop their gross motor skills, for example by playing on a range of climbing frames and exploring our woodlands area. However, children in reception also have specific PE lessons weekly to develop particular skills.
Our basic PE curriculum is also enriched in a number of other ways. For example, we have annual sports days for all children as well as after school clubs and lunchtime activities that provide further opportunities for children to engage in sport. The school also participates in sports matches and competitions with other local schools.
PE Teaching
Children have two PE lessons a week, generally lasting an hour each. One of these lessons is taught by the class teacher while the other is taught by a sports coach. Children in year 5 (for the first half of the year: terms 1, 2 and 3) and year 4 (for the second half of the year: terms 4, 5 and 6) have swimming lessons instead of the class teacher PE lesson.
Over the course of each lesson, and more generally over each unit of work, all PE teaching includes discussions about healthy living and the importance of physical activity within this, time to practise specific skills and time to play wider games.
PE Overview
T: teacher, C: coach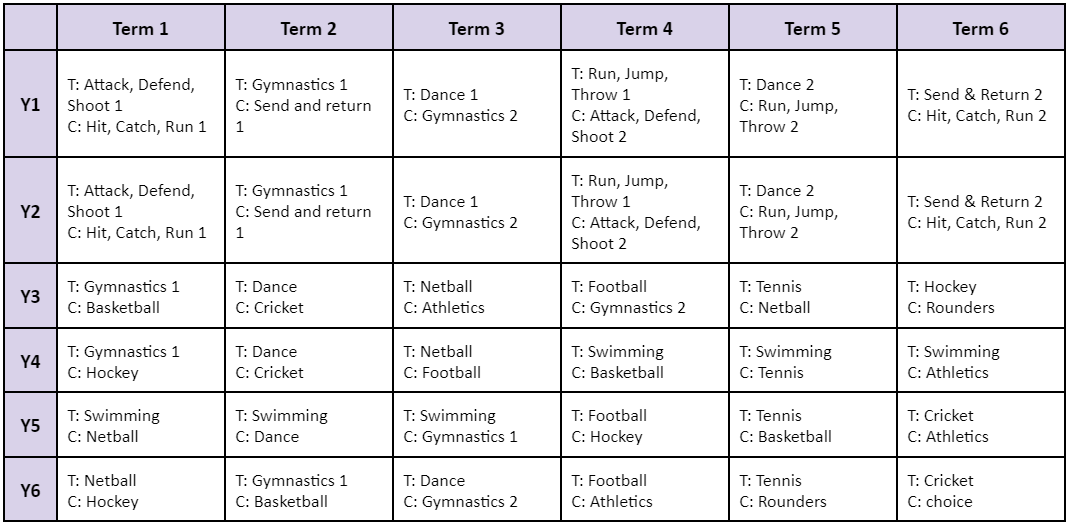 PSHEE
PSHEE Aims
As society and the world around us is constantly changing, our PSHEE curriculum aims to prepare our children with the necessary knowledge, skills and understanding they need to lead a confident, healthy and independent life.
Our school values (respect, resilience, independence) are embedded into the PSHEE curriculum as we teach the children to understand who they are and how to build healthy relationships with the people around them. Over time, the children become more self-aware and understand the effect they have on others. They also learn how they can be a positive influence on their friends and peers in a range of situations, both inside and outside the classroom.
Our PSHEE Curriculum
Our PSHEE curriculum is mainly based on a scheme called Jigsaw. Through this scheme, we teach children to develop their social skills, grow in emotional literacy and keep themselves and others safe whilst also developing personal relationships with the people around them. This scheme also helps us to teach children how to keep themselves mentally and physically healthy, including through discussions about diet and exercise, sleep, managing stress and drugs and alcohol as children move through the school. In addition to weekly Jigsaw lessons, children take part in Discussion Time: this is dedicated time when teachers can respond to and explore a range of topical content each week. This allows us to achieve a balance between proactively teaching PSHEE content and being flexible and responsive to children's particular needs at a particular time.
The PSHEE curriculum begins with our youngest children in EYFS and builds on children's learning each year, ensuring that conversations and content are age appropriate in all aspects. Across all year groups, each half term is dedicated to one of six areas:
Being Me In My World: 'Who am I and how do I fit in?'

Celebrating Differences: Respect for similarity and difference, anti-bullying and being unique.

Dreams and Goals: Aspirations, how to achieve goals and understanding the emotions that go with this.

Healthy Me: Being and keeping safe and healthy

Relationships: Building positive, healthy relationships

Changing Me: Coping positively with change. This also incorporates our Relationships, Sex and Health Education (RSHE) curriculum, further details of which can be accessed here.
PSHEE Teaching
In early years, PSHEE comes into the 'personal, social and emotional development' area of learning. Children are given opportunities throughout the day to develop in these areas in different parts of the learning environment and through a range of activities. With adult modelling and guidance, the children become increasingly independent: they learn to make healthy eating choices and manage personal needs. The children are also supported in their interactions with their peers as they learn to make good friendships, co-operate and resolve conflict peacefully. This provides the fundamental building blocks for children to progress through the PSHEE curriculum in key stage 1.
In Key Stages 1 & 2 the PSHEE curriculum is taught explicitly every week by the classroom teacher and nurtured implicitly throughout the school day. Each week children have a discrete lesson that focuses on the progressive curriculum outlined in the overview below. These lessons contain extensive discussion for children to reflect on their own thoughts and ideas as well as hearing and learning from their peers. As well as this, each week, the class participates in Discussion Time with their class teacher where they have the opportunity to ask questions and have their opinion heard about a range of topics from children's rights to current affairs across the year. Discussion Time is designed to be flexible in content: it is sometimes proactive to events that are planned to take place and sometimes reactive to situations that might have affected the class.
PSHEE Overview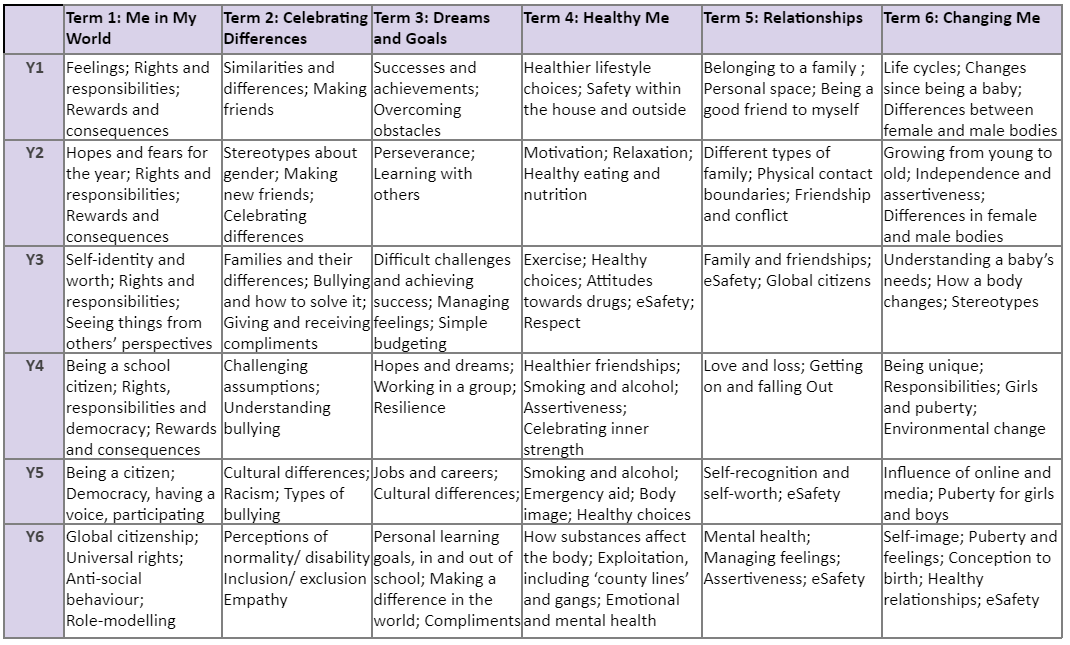 RE
RE Aims
We believe RE can play a powerful role in children's education. By teaching children about a range of religions and world views, we aim not only to help children better understand the world around them but also to help them develop their own ideas, values and identities. Children are given time and space in our RE curriculum for personal reflection as they tackle challenging questions about meaning and purpose in life, beliefs about God and issues of right and wrong, among other themes. Importantly, children learn to articulate their thoughts and beliefs clearly while also being respectful of others whose views may differ. For this reason, our RE curriculum is an important component in how we promote our school values, and indeed wider British values, among our children.
Our RE Curriculum
At Stepney Park, we follow the locally agreed SACRE scheme for RE. This provides a well-balanced RE curriculum which offers learning about religious beliefs, their expression, the practices of religious believers and time for children to consider their own thoughts. We have adapted the SACRE curriculum to our school by specifying the precise content of each unit of work from the suggested range given in the SACRE curriculum. This has allowed us to ensure that the content is logically sequenced and appropriate links are made with other areas of our curriculum.
In key stage 1, children learn about the beliefs and practices of specific religions before moving on to comparative units that look at the same aspect in different faiths (e.g. places of worship or holy books). These two elements continue in key stage 2, but there is also a focus on children exploring how religious and non-religious world views seek to answer profound questions such as 'What happens after I die?' and 'How can we tell right from wrong?' In addition to developing their understanding of religious belief, this offers children opportunities to explore their own responses to these and other questions.
Across our RE curriculum, we have chosen to prioritise religious stories from a wide range of religions. This focus on religious stories offers children an insight into the core teachings of specific religions but also, where appropriate, allows for the study of scripture. In addition, we believe the study of religious stories develops children's cultural capital by giving them access to the wider meanings of ideas such as 'the good Samaritan' or 'the Last Supper'.
In EYFS, children lay the foundations for their later learning in RE by exploring their own and others' beliefs.This includes reading and discussing texts with religious characters and, in particular, learning about a wide range of religious festivals as part of the Understanding the World strand of the EYFS curriculum.
RE Teaching
Children in years 1-6 have 4 units of work in RE per year, each taught in blocks of three weeks on rotation with history, geography and DT. As described above, we have a particular focus on religious stories and children read relevant scripture where this is appropriate.
Given the nature of the questions that children consider in RE, discussion is often a central part of RE teaching as children reflect, share their own thoughts and respond to others. During such lessons, teachers structure the discussion carefully and ensure children understand the importance of listening to others and sharing ideas respectfully. The teaching of RE is further enriched by a variety of trips to religious institutions to help children develop a clearer sense of what and who they discuss in class.
RE Overview
EYFS

Children in EYFS lay the foundation for their later study in RE by reading and discussing texts with religious characters and by learning about a wide range of festivals and how they are celebrated by a diverse range of religious and other communities.

Y1

Islam

Christianity

Places of Worship

(Christianity, Islam)

Faith Communities

(Christianity, Islam)

Y2

Judaism

Religious Festivals

(Hanukah, Christmas)

Sacred Books

(Judaism, Christianity, Islam)

Religious Stories: Caring for the World

Y3

Hinduism

Religious Festivals

(Diwali)

Prayer

(Hinduism, Christianity, Islam)

What happens in church?

Y4

Life Events

(Hinduism, Christianity, Judaism, Islam)

Duty in Hinduism

Religious Stories: Jesus

Religious Stories: Muhammad

Y5

Humanism

Religious Stories: What would Jesus do?

Places of Worship

(Sikhism)

Right and Wrong

(Christianity, Judaism, Humanism)

Y6

Life After Death

(Christianity, Islam, Hinduism, Buddhism)

Expressions of Faith

(Christianity, Islam, Sikhism)

Religious Stories: Morality

(Christianity, Islam)

Being Part of Something Bigger

(Islam, Hinduism)