School Performance Data
Key Stage 2
2022 was the first year that Stepney Park Primary School had children take their end of key stage 2 tests (SATs). Thanks to the children's hard work, as well as their teachers' skills and commitment, the children have done extremely well. We are very proud that more children achieved the expected standard in reading, writing and maths at Stepney Park than the national average.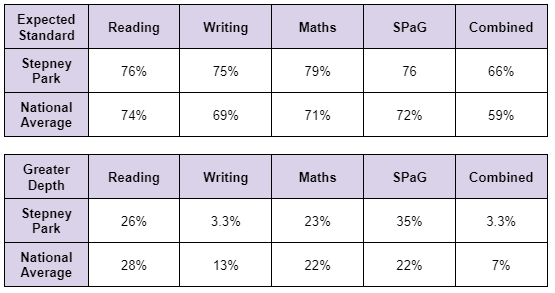 Times Tables
2022 was the first time that the Multiplication Tables Check has been taken by children in year 4. We are proud that over half of our children (51%) achieved full marks in this online test. The average score across the cohort was 22.13.
Key Stage 1
Our results at key stage 1 in 2022 tell us that some of our children in year 2, despite making excellent progress over the year, haven't yet recovered from the impacts of the pandemic. However, we have a strong plan in place as they move into key stage 2 which we are confident will help them to close the remaining gaps in their learning.

Phonics
Phonics is an essential building block of learning to read. As such, we are proud that just over 83% of our year 1 cohort passed the Phonics Screening Check in 2022. 51% of those that retook the check in year 2 also passed. For those children who haven't yet passed, we have a strong plan to ensure they make excellent progress in their phonics and reading moving forward.
EYFS
We are pleased that 62% of our reception cohort reached a Good Level of Development (GLD) by the end of reception.